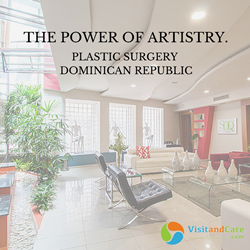 Trust is an important factor when selecting a plastic surgeon. Patients are not only attracted to low-cost surgical enhancement, but more importantly trustworthy guidance and services.
New York, NY (PRWEB) March 27, 2015
Top medical tourism firm, VisitandCare.com, is seeing more plastic surgery patients travel to the Dominican Republic to benefit from the experience of Dr. Tania Medina. The plastic surgery clinic is turning the medical tourism industry upside-down and becoming a choice destination for international cosmetic surgery patients — with trustworthy services becoming the central influence.
"Trust is an important factor when selecting a plastic surgeon. Patients are not only attracted to low-cost surgical enhancement, but more importantly trustworthy guidance and services. It is important that our exclusive network of providers strives to make trustworthy, high-quality services and the satisfaction of every patient a top priority. This is a major influence for the increase in patients who are willing to travel across the country to have plastic surgery," stated Brandie Umar, Executive Director of VisitandCare.com.
As one of the company's leading partnered providers, Plastic Surgery Clinic of Dr. Tania Medina, places high priority on the uniqueness of each patient, which many patients will affirm is a rare attribute to find in today's medical tourism industry. Dr. Tania Medina and her first-rate team unequivocally believe in giving patients personalized results that reflects a patient's specific cosmetic needs.
The Rise in Cosmetic Surgery Abroad —
With the significant rise in the number of patients seeking cosmetic surgery — it is apparent that individuals are pursuing beauty enhancement more so now than ever before. And it's no doubt that men and women alike want to look astonishing — beautiful in every way. Plastic surgery in the Dominican Republic has become the fountain of youth.
Expert plastic surgeon, Dr. Tania Medina, is empowering individuals — helping patients focus on the positive and uplifting not only on outward appearance, but also overall well-being. It is this incomparable pride and compassion that is creating world-class results, and a reputation that extends far across the globe.
In tenacious pursuit of beauty, skin care and overall improvement and enhancement, the plastic surgery clinic in Santo Domingo offers innovative procedures for the body, breasts, face, and non-surgical intensifying treatments.
Achieving International Success —
Dr. Tania Medina's own beauty, sincere dependability, and proven track record of success is an immense fascination for many international patients. As an elite member of the Dominican Medical Association and the Dominican Society of Plastic, Reconstructive and Aesthetic Surgery (SODOCIPRE), her international success is highlighted by extensive training and an artistic eye. Whether a patient is a local inhabitant or from out of the country, Dr. Medina and her practiced team meticulously guide every individual through the entire beauty enhancing experience.
"It is crucial for our company to partner with providers who take the time to make the whole process simple and relaxed for local patients, and extend all of their incredible benefits to patients from overseas. This is just one of the many steps we take at VisitandCare.com to help patients and providers achieve success," stated Executives at VisitandCare.com. "We're extremely honored to partner with emerging plastic surgeons, including Dr. Tania Medina. It is our goal to partner with plastic surgery clinics who provide innovative techniques, professionalism and most importantly, epitomize trustworthiness."
About VisitandCare.com
VisitandCare.com was created to give individuals worldwide valued direction locating a doctor, obtain free medical treatment quotes, and uncover affordable medical treatments at destinations of their choice. Improving Patients Lives |The company provides access to exclusive doctors and hospitals who specialize in infertility, plastic surgery, cosmetic dentistry, laser eye surgery, orthopedic surgery, hair transplantation, weight loss surgery, heart surgery and cancer care. Patients are matched with devoted multilingual patient facilitators and provided tangible connections to doctors worldwide. Promoting Your Healthcare Brand | For the ultimate connection between the healthcare industry and patients worldwide, the company delivers an unrivaled commitment to create sustained value for medical partners. Contact VisitandCare.com to see if you are eligible to become a partner of the exclusive network.