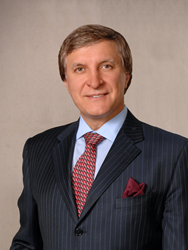 A modern facelift, is not a single procedure. It is a customized combination of many component procedures that are combined to address how a specific patient's face has aged.
Dallas, TX (PRWEB) August 19, 2014
In the recently published book, Navigate Your Beauty, Dallas plastic surgeon and professor of plastic surgery, Dr. Rod Rohrich, explains how volume restoration, as opposed to skin tightening, is the key to successfully restoring the appearance of youth.
"As we age, we begin to experience fat atrophy, the gradual loss of facial fat that is the hallmark of youth," explains Dr. Rohrich. "It's this loss of fat combined with loss of elasticity in the skin that creates the familiar signs of aging."
This process follows a predictable pattern over time. The recent discovery of facial fat compartments, discrete collections of fat tissue within the face, help explain this pattern. Signs of aging tend to start in the fat compartments above and below the eyes, and in the central cheek. As we age, the fat loss continues towards the compartments that reside under the nasolabial folds and lower cheeks.
This loss of volume can be treated in a number of ways. In younger patients, the use of non-invasive cosmetic fillers can restore lost volume and help a patient look more rested and youthful. Fillers can serve as an affordable and accessible way to help restore volume without surgery, but Dr. Rohrich urges patients to understand their limits and be cautious of physicians who may overuse them.
For fillers, Dr. Rohrich suggests patients should seek out board certified doctors that have significant training and understanding of facial anatomy. That is, plastic surgeons, dermatologists, oculoplastic surgeons, or otolaryngologists (ENTs).
"Although the use of fillers definitely has its place in facial rejuvenation, both patients and administering physicians should be wary of overusing them," says Dr. Rohrich, who treats many patients in which soft tissue fillers and volumizers have been applied too aggressively. "This can create a swollen and overfilled appearance, making people look strange and unnatural. It is the exact opposite of what is desired."
As we continue to age and lose more facial fat, more significant sagging begins. For these patients, fillers may not be enough. Dr. Rohrich says that, although fillers can work really well for superficial filling, only surgery can address significant sagging in older patients.
"The term facelift can be slightly misleading," says Dr. Rohrich. "A modern facelift, is not a single procedure. It is a customized combination of many component procedures that are combined to address how a specific patient's face has aged."
About Dr. Rod Rohrich
Dr. Rod J. Rohrich holds the Betty and Warren Woodward Chair in Plastic and Reconstructive Surgery at UT Southwestern Medical Center. He also holds the UT Southwestern Medical Center Crystal Charity Ball Distinguished Chair in Plastic Surgery. Dr. Rohrich graduated from Baylor College of Medicine with high honors, and completed residencies at the University of Michigan Medical Center and fellowships at Massachusetts General Hospital/Harvard (hand/microsurgery) and Oxford University (pediatric plastic surgery). He has served as president of the American Society of Plastic Surgeons, the largest organization of board certified plastic surgeons in the world. He repeatedly has been selected by his peers as one of America's best doctors, and twice has received one of his profession's highest honors, the Plastic Surgery Educational Foundation Distinguished Service Award, which recognizes his contributions to education in plastic surgery. Dr. Rohrich participates in and has led numerous associations and councils for the advancement of plastic and reconstructive surgery.