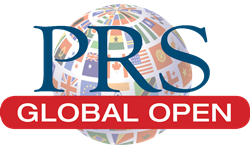 ARLINGTON HEIGHTS, Ill. (PRWEB) January 26, 2021
Plastic and Reconstructive Surgery—Global Open (PRS Global Open), the official open access, peer reviewed, international medical journal of the American Society of Plastic Surgeons, has announced Jeffrey Janis, MD, as editor-in-chief.
Since its inception in 2013, the open-access journal quickly established a name for itself. It is indexed in PubMed Central as well as the Web of Science's Emerging Sources Citation Index and listed in the prestigious Directory of Open Access Journals.
"PRS Global Open is really the Society's ambassador to the world," Dr. Janis says. "It has the advantage of knowing no financial barriers to the readership. Through the open-access model, literally anybody around the globe with an internet connection – not just plastic surgeons – can have access to the best available evidence in plastic surgery research, and I want to ensure that ASPS continues to deliver and expand upon the high-quality education for which we're known. This is our pathway to reaching billions of people."
Dr. Janis, who is a full-time faculty member at The Ohio State University (OSU) Wexner Medical Center as a professor in the Department of Plastic and Reconstructive Surgery, with adjunct appointments as a professor in the Departments of Neurosurgery, Neurology and Surgery, and chief of Plastic Surgery at University Hospital was selected as the new editor-in-chief of PRS Global Open after an exhaustive year-long search.
In addition to serving as ASPS president in 2018, Dr. Janis has published over 170 peer-reviewed manuscripts (resulting in 8,300 citations, h-index 46), 104 book chapters and six textbooks – with three additional books and three apps pending publication. He has served as a visiting professor at 44 major national and international institutions and has delivered more than 920 lectures. He is also editor of Essentials of Plastic Surgery, the handbook of plastic surgery used by students, residents, Fellows and surgeons worldwide.
Dr. Janis is a Past President of the American Council of Academic Plastic Surgeons and the Columbus Medical Association, and he currently serves as the President of the Migraine Surgery Society, President-Elect of the Americas Hernia Society and as a Governor on the Board of Governors for the American College of Surgeons. He is also a member of the ACGME's Plastic Surgery Residency Review Committee.
"In the traditional model of journal publication, by the time you write and submit an article and it goes through the workflow process, it could be months to a year before that text ever sees the light of day," he says. "PRS Global Open has always been great about turning things around in about six weeks. It is in a unique position to be on the cutting edge of plastic surgery research."
"The vision is to leverage and emphasize the speed and quality of PRS Global Open with acknowledgement and gratitude for the work that's been done to date, but with a strong eye on the future," he says. "Everything will be in alignment with the goals of ASPS in terms of inclusivity and representation, and I'm excited to see how we can build upon the solid foundation PRS Global Open has already established."
###
About PRS Global Open
PRS Global Open, the official open access journal of the American Society of Plastic Surgeons (ASPS), publishes the latest peer-reviewed updates and advances in plastic surgery from over 60 nations, including experimental laboratory research, intriguing and perplexing case reports, personal operative and clinical technique videos, and relevant original articles on topics including breast reconstruction after cancer, head and neck reconstruction, cosmetic outcomes, pediatric and craniofacial techniques, and aesthetic medicine. PRS Global Open educates patients, the public, and affiliated specialists about plastic and reconstructive surgery to improve safety, outcomes, and care worldwide.
About American Society of Plastic Surgeons
The American Society of Plastic Surgeons (ASPS) is the world's largest organization of board-certified plastic surgeons. Representing more than 8,000 member surgeons, the Society is recognized as a leading authority and information source on aesthetic and reconstructive plastic surgery. ASPS comprises more than 93 percent of all board-certified plastic surgeons in the United States. Founded in 1931, the Society represents physicians certified by The American Board of Plastic Surgery or The Royal College of Physicians and Surgeons of Canada. ASPS advances quality care to plastic surgery patients by encouraging high standards of training, ethics, physician practice and research in plastic surgery.