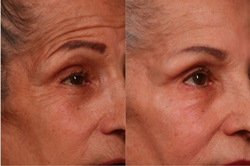 NEWBURGH, N.Y. (PRWEB) February 06, 2020
Laser & Cosmetic Surgery Specialists, PC in Newburgh, New York, is kicking off the new year with a new procedure: MicroTox®. Dr. Ran Y. Rubinstein is one of just a few aesthetic experts in the United States who are trained and certified to perform these specialized injections. Patients can receive a series of anti-aging treatments that are less invasive than cosmetic surgery yet provide comparable results.
MicroTox®, also called Micro Botox, is a diluted form of the popular muscle-relaxing wrinkle solution, Botox. Instead of injecting the solution deep into specific facial muscles to limit their movement, MicroTox is introduced more superficially and into to a larger region of the face and neck for more superficial, delicate improvements. Dr Rubinstein uses smaller gauge needles to inject MicroTox® under the skin, so it can directly impact existing signs of aging by offering immediate tightening.
Because the injections are performed superficially the Botox cam shrink a patient's sweat and sebaceous (oil-producing) glands. This superficial injection also constricts the skin and creates a tightening shrink wrap effect on the skin. MicroTox® can be used to smooth the upper and lower eyelids, cheeks, jaw, neck, and décolletage. The benefits of minimally invasive intradermal Botox are the ability to treat lines around the eyes, quicker onset of action, and a broader range of cosmetic options. MicroTox® can be administered to a variety of patients, including those with large pores, acne, and crepe-like skin.
The expert team at Laser & Cosmetic Surgery Specialists, PC of the greater New York City area offers an impressive catalog of individually customized treatment options- from transformative facial plastic surgeries to med spa treatments In addition to facial procedures, Dr. Samuel Beran, M.D., MBA, F.A.C.S. has joined the practice as an expert in body plastics.
Through the addition of his specialty procedures, Laser & Cosmetic Surgery Specialists, PC now offers a single location to address patients' comprehensive aesthetic needs with dermatological, facial, and body procedures.
Dr. Rubinstein, a physician educator, is a Hudson Valley double board-certified facial plastic surgeon in Newburgh, NY. A hallmark of Dr. Rubinstein's work is his care in treating the delicate anatomy of the face. He creates small changes that deliver maximum impact to a patient's aesthetics while maintaining their natural appearance. MicroTox® is an exciting new addition to his extensive skill set and uniquely complements traditional Botox injections.
If you are interested in learning more about the benefits of MicroTox and other cosmetic procedures, contact Laser & Cosmetic Surgery Specialists, PC at 845-205-7667 or email info@yourfacemd.com. A staff member may be able to answer your general questions and schedule your consultation with Dr. Rubinstein.