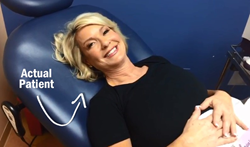 NOVATO, Calif. (PRWEB) November 12, 2018
Heather Furnas, MD and Francisco Canales, MD recently introduced Viveve to their northern California practice. This cutting-edge technique is noninvasive, offering women a fast, yet safe, technique for restoring vaginal tightness. An excellent alternative to more invasive vaginal rejuvenation techniques, Viveve is now available at both the Santa Rosa and Novato offices of Plastic Surgery Associates and Allegro MedSpa.
Viveve is a unique technique, designed to restore collagen production deep within the vaginal walls. The patented system uses monopolar radiofrequency for volumetric heating and even warming, penetrating 3-5 mm into the connective tissue. The results from Viveve are far superior to traditional laser treatments. Only one session is necessary to tighten the vaginal walls, improving sexual sensations while increasing moisture and natural lubrication for up to 12 months.
Each Viveve session is performed in a comfortable treatment room, taking 25-30 minutes. The cryogen cooling system protects the surface mucosa, immediately chilling the area so no anesthesia is needed. Women are back to their daily routine immediately after treatment. Noticeable results can be experienced in two to three weeks, with full benefits of treatment continuing to improve over six to nine weeks.
Benefits of Viveve may include one or more of the following:
 An increase in vaginal laxity
 Improved vaginal lubrication
 Reduced pain and discomfort during intercourse
 An increase in vaginal sensitivity
 An increase in the quality and intensity of climax
 A decrease in urinary incontinence
Dr. Furnas, considered one of the country's leading vaginal rejuvenation providers, explains the benefits of nonsurgical treatment, "Our patients come in with varying complaints. There is vaginal laxity and those patients are offered nonsurgical treatments, such as Viveve. Patients also come in complaining of dryness and stress urinary incontinence,". She continues, "Almost all are self-conscious, (with symptoms) impacting their relationship with their partner; they felt less attractive,". Her associate, Dr. Canales adds, "One of the great things Viveve offers is a single treatment. This treatment really will bring joy to patient's lives,".
ABOUT PLASTIC SURGERY ASSOCIATES
Dr. Furnas and Dr. Canales founded Santa Rosa's Plastic Surgery Associates in 1992. Since that time, the practice has become one of the most trusted plastic surgery providers in the country. With more than three decades of experience each, Dr. Furnas and Dr. Canales both hold board certification from the American Board of Plastic Surgery. Plastic Surgery Associates provides a wide range of aesthetic procedures, including rapid recovery breast augmentation, abdominoplasty and the Mommy Makeover. Adjacent to Plastic Surgery Associates is the Allegro MedSpa, opened by Dr. Furnas and Dr. Canales as a retreat for patients seeking top-of-the-line nonsurgical treatments such as injectables, Ultherapy and physician-quality skincare.
For additional information on Plastic Surgery Associates or Allegro MedSpa, contact our Santa Rosa office 707.537.2111. New patient consultations with Dr. Furnas and Dr. Canales are complimentary. For patient convenience, Plastic Surgery Associates and Allegro MedSpa have a second location in Novato, CA.