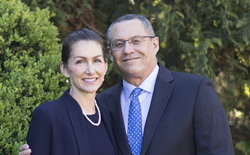 SANTA ROSA, Calif. (PRWEB) January 28, 2020
Heather Furnas, MD FACS and Francisco Canales, MD are proud to announce the arrival of Allergan's CoolTone body contouring device. This brand new offering from the makers of CoolSculpting and Botox is designed to improve definition by toning targeted muscles. Plastic Surgery Associates' Santa Rosa office will begin CoolTone consultations in late December, with treatments set to start in January of 2020.
Allergan's CoolTone is far different from its similar-sounding counterpart, CoolSculpting, who uses freezing temperatures to eliminate fatty tissue. Instead, CoolTone is a unique device designed to assist men and women looking to tone muscles and improve their body core. Over a series of treatments, the device will firm and strengthen muscles by toning underlying muscle fibers. The device can help with three key body areas: the abs, buttocks and thighs.
Cleared by the Food and Drug Administration (FDA), CoolTone uses magnetic muscle stimulation (MMS) to penetrate below the skin and fat layers, transferring electromagnetic energy into the muscle, causing natural contractions. Over time, these contractions will tighten the muscle fibers, ultimately improving and defining the physique. Although CoolTone is not the first muscle toning instrument to hit the aesthetic market, according to Allergan, the device offers 50% more magnetic intensity than its competitors.
CoolTone treatments are painless, taking from 30-45 minutes in the office. No downtime or recovery period is needed. The recommended number of treatments will vary according to the individual and the target area. In most cases, four treatments spread out over a two-week period can provide desired results.
Plastic Surgery Associates is excited to be one of the first aesthetic practices in the United States to offer CoolTone at the start of 2020. All treatments and procedures at Plastic Surgery Associates are overseen by two board-certified plastic surgeons, ensuring not only the safest techniques but also the very best results. Like all of Allergan's products, CoolTone will be eligible for its Brilliant Distinction® rewards.
ABOUT PLASTIC SURGERY ASSOCIATES
Dr. Furnas and Dr. Canales are both board-certified plastic surgeons, specializing in cosmetic treatments for the face, breast and body. First meeting during their medical training at Stanford University, Dr. Furnas and Dr. Canales worked together in Boston while serving on the clinical faculty at Harvard. The duo then returned to Northern California, opening the Santa Rosa office of Plastic Surgery Associates in 1992. Here, Dr. Furnas and Dr. Canales consistently achieve exceptional aesthetic results through many of their own, innovative treatments and techniques, including rapid recovery breast augmentation and the Mommy Makeover, as well as cutting-edge surgical and noninvasive vaginal rejuvenation.
Today, Plastic Surgery Associates has two locations, in Santa Rosa and Novato, California. Additionally, to bring clients the best in nonsurgical skincare and facial rejuvenation, Dr. Furnas and Dr. Canales have established Allegro MedSpa, located adjacent to each Plastic Surgery Associates' office.
If you would like to schedule a free CoolTone consultation with Dr. Furnas or Dr. Canales, contact Plastic Surgery Associates at 707.537.2111. If you prefer to have a patient coordinator reach out to you, simply fill out the online Contact Us form. Visit Allergan's CoolTone website for more information about this game-changing treatment.