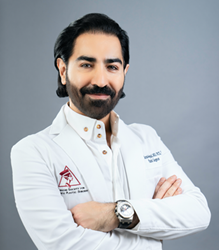 With most people wanting to limit away-from-home trips, online consultations remain a very effective tool, especially for first-time appointments.
BEVERLY HILLS, Calif. (PRWEB) September 04, 2020
A September 1 article featured in DocWireNews is an abstract for a study that surveyed plastic surgeons in the United Kingdom about their usage of virtual consultation software during the UK's lockdown period. The study found that, while nearly 75% of plastic surgeons in the study had not conducted virtual consultations before the pandemic, over 97% said they would now continue to perform these types of consultations. Beverly Hills-based plastic surgeon Payam Jarrah-Nejad, M.D., F.I.C.S., F.A.C.S., known more casually as Dr. J, says that the study comports with what he's heard from other doctors. For his part, he says that he has been offering virtual consultations to out-of-town patients for years, so doing it for locally-based patients also came naturally to his office. He adds that, for the foreseeable future with most people wanting to limit away-from-home trips, online consultations remain a very effective tool, especially for first-time appointments.
Whether the surgery in question is rhinoplasty or a mommy makeover collection of procedures, Dr. J says that, while virtual meetings may not offer every single opportunity that an in-person appointment would, with today's easy access to information and the ability to incorporate photos, a great deal can be accomplished online. The goal with these initial consultations, says Dr. J, is to give prospective patients an idea of what might be possible in their cases and to allow them to understand both the risks and the benefits.
Once it's time for patients to come into the office, says Dr. J, he and his team are keeping the clinical experience as safe as possible. In addition to the very rigorous safety and hygiene protocols that he already had in place prior to the pandemic, new protections to ensure that viral or other illnesses are not spread at his office have been put in place including screening and social distancing protocols. As at all other places of business, masks are required at all times.
The Beverly Hills plastic surgeon says that he understands that some people may be inclined to postpone procedures until after the pandemic but he notes that the risks are very low and, in terms of convenience, the present time offers a very rare opportunity to recover on one's own terms. Patients who are working at home can return to work soon after surgeries more easily and without being having to be very concerned with their appearance while in recovery. Moreover, pandemic-period patients don't have to worry about major social gatherings and other stress-inducing matters that can sometimes complicate a patient's recovery period.
Pandemic or no pandemic, prospective patients need to choose the doctor who will perform their plastic surgery very carefully, says Dr. J. First of all, he says, it is important to limit a patients' search to only board certified plastic surgeons who have been fully trained and who have met the rigorous specifications of the nation's premier organization for plastic surgeons. Patients need to keep in mind that, with luck, they will be living with their outcomes for many decades to come, and they want to get things right.
Dr. J is double-board certified by the American Board of Plastic Surgery and the American Board of Surgery. Interested readers may call (310) 228-3151 to learn more. They can also see Dr. J's qualifications as a Beverly Hills plastic surgeon on his website.