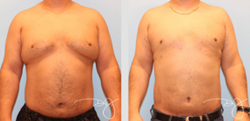 The good news is that today's men have more options to improve their appearance than ever and plastic surgery is definitely one of them.
BEVERLY HILLS, Calif. (PRWEB) January 20, 2020
A January 15 article on Business Insider discusses a reported growing interest in plastic surgery and cosmetic procedures among men working in the high-tech field in Northern California's Silicon Valley. The article notes that, while women have long been expected to maintain their appearance for career advancement, more and more men in highly competitive and youth-oriented fields are beginning to feel the same kind of pressure to maintain their appearance to remain relevant. The article adds that many of the techies have rebranded their interest in improving their appearance with a new name, "personal optimization." Beverly Hills plastic surgeon Payam Jarrah-Nejad, M.D., F.I.C.S., F.A.C.S., aka Dr. J, says that, by any name, it's not hard to see why male procedures are rapidly on the increase.
Dr. J says that the kind of image consciousness which was once largely the province of women has been expanding since the late 20th century, particularly in areas like Los Angeles and New York. He adds that, all things considered, it's not surprising that workers in the tech field might want to downplay their long years of experience and project a more youthful and energetic image. The plastic surgeon says that men from all fields – from lawyers and professors to men in the construction field – are coming to his office to inquire about facial rejuvenation techniques including facelifts, eyelifts (blepharoplasty), and the ever-popular nonsurgical choice, "Brotox." All of these procedures, he adds, can dramatically reduce a man's perceived age and help to create the sort of appearance where others may not even think about how old or young he is.
The noted plastic surgeon adds that the most common procedure traditionally sought by men has been rhinoplasty (nose jobs). While not typically thought of as a facial rejuvenation procedure, large noses are often unconsciously associated with age because our noses continue to grow throughout our lifetime, says Dr. J. Therefore, he adds, a well-done nose job can also make a patient look more youthful as well as generally more attractive.
Body contouring is another area where male patients are exploring more procedures than ever before, says Dr. J. Men who wish to wear more form-fitting clothing at work, such as the skinny jeans and tight V-neck shirts associated with hipster techies, may turn to tummy tucks and liposuction to deal with the kind of bulges that exercise and a healthy diet cannot always conquer. He notes that male breast reductions are another popular procedure for younger men with gynecomastia, a condition that results in oversized male breasts. He adds that large breasts can be difficult to hide in such popular tech clothing choices as golf-shirts and high-end t-shirts. The good news, says the doctor, is that today's men have more options to improve their appearance than ever and plastic surgery is definitely one of them. While personal optimization might begin with exercise and a better diet, a skilled plastic surgeon can fill in the gaps.
Patients of all ages and genders are encouraged to learn about Dr. J's qualifications as a leading Beverly Hills plastic surgeon who is double board-certified by both the American Board of Plastic Surgery and the American Board of Surgery. Interested readers also encouraged to call his office (310) 228-3151 to inquire about a consultation.