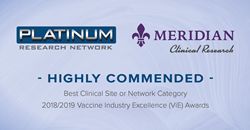 "Vaccine trials demand special competencies, like the ability to activate instantly, drive fast enrollment across diverse demographics, and ensure tight quality control. Meridian has introduced unique in-house programs to support these needs." - Andrew Kimball, VP, Business Development, Meridian
OMAHA, Neb. (PRWEB) April 25, 2019
Platinum Research Network was named highly commended for the Best Clinical Site or Network category at the 2018/2019 Vaccine Industry Excellence (ViE) Awards. The award recognizes investigative site networks that support diverse clinical trials for vaccines, introduce novel services to improve performance, achieve rapid enrollment, and uphold high subject retention.
Meridian Clinical Research is the largest member of Platinum, which provides access to more than 47 million patients worldwide. In 2018, Meridian and Platinum strengthened strategic partnerships with vaccine developers, added several vaccine research sites to its network, and expanded clinical infrastructure and peripheral blood mononuclear cell (PBMC) processing capabilities across North America.
"We focus on preempting the needs of sponsors and contract research organizations by strategically planning with them," said Andrew Kimball, vice president, business development at Meridian. "Vaccine trials demand special competencies, like the ability to activate instantly, drive fast enrollment across diverse demographics, and ensure tight quality control. Meridian has introduced unique in-house programs to support these needs, and many have come as a result of think tanks conducted with our clients."
Since 1999, Meridian has achieved a 108% average enrollment rate for vaccine trials. It conducts research across all major and emerging indications, including anti-infectives and immunologics, and supports development from first-in-human trials to high-volume Phase III trials.
Brandon Essink, MD, CPI, principal investigator and medical director at Meridian, is one of more than a dozen investigators that oversee vaccine trials at Meridian. "We appreciate the recognition and hope it's one of many we collect in the next few years," said Dr. Essink. Dr. Essink is frequently selected to lead pioneering vaccine research programs and provide counsel for vaccine-related protocol development. Results from clinical trials Dr. Essink oversees are frequently published in industry journals, including Vaccine.
To learn more about Meridian's experience in vaccines and infectious diseases, visit mcrmed.com/vaccine.