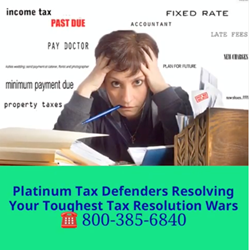 LOS ANGELES (PRWEB) December 26, 2019
Taxpayers should know that many consequences can come as a result of not paying taxes. One of the effects of not paying back taxes is the IRS can have your passport suspended, or your renewal can be denied. When it comes to traveling abroad, U.S. residents must be carrying a valid U.S. passport. What this means is, for taxpayers who do not pay back taxes, the IRS may deny their plans to travel abroad for the holidays.
"Many taxpayers don't realize that having your passport revoked is one of the many consequences of not paying back taxes," says Sherri Gastelum, CEO of Platinum Tax Defenders. "Not only does having back tax debt hurt your financial welfare, but it can also prevent you from taking those vacations for which you've been saving. If you have back taxes that you owe the IRS, we recommend you come to see us so we can get you on a path to become tax debt-free."
The move toward revoking passports due to tax debt came in 2015 after former President Barack Obama signed the Fixing America's Surface Transportation (FAST) Act into law. The Act provides funds for federal highways, highway safety, and transit programs. To help cover the costs involved with the FAST Act, the IRS added a new code that allows the IRS to revoke, deny or limit the passport of taxpayers with "seriously delinquent tax debt."
Taxpayers may be wondering who might be affected by this law. Under the IRS guidelines, an individual would owe at least $52,000 in back tax debt before their passport is revoked. The $52,000 includes interest and penalties, as formally assessed by the IRS. Additionally, before their passport can be revoked, the IRS must have already filed a notice of lien, issued a levy on the taxpayer's assets, or the taxpayer must have either utilized all of their administrative appeal rights or allowed them to slip.
There are some instances in which the IRS would not consider a taxpayer with more than $52,000 in tax debt to be "seriously delinquent."
"If a taxpayer is making an effort to pay back their taxes promptly, the IRS will not consider the tax debt to be seriously delinquent," says Gastelum. "The FAST Act does clarify that tax debts being paid on time via an IRS-approved Offer in Compromise or Installment Agreement would not be considered seriously delinquent. Our team of tax relief experts has years of experience helping taxpayers pay back their taxes in a way they can afford."
Before a taxpayer's IRS is revoked, they will receive a notice from the IRS saying that the taxpayer's passport is subject to suspension or non-renewal. Taxpayers may contest this certification either by filing a suit in a U.S. district court or U.S. Tax court. Platinum Tax Defenders recommends that any taxpayer who is seeking to file a case against the IRS do so with the help of an experienced tax attorney. Platinum Tax Defenders employs a team of experienced tax attorneys who are available to help taxpayers get through even the direst of tax debt situations.
For more information on Platinum Tax Defenders, visit http://www.platinumtaxdefenders.com or call 866-866-8053.
About Platinum Tax Defenders
Tax resolution specialists Platinum Tax Defenders have been helping taxpayers file back taxes and come out of debt for over 10 years. The professional team at Platinum Tax Defenders has helped hundreds of clients pay back their taxes through such tax relief programs as Offer in Compromise and Installment Agreements. If your passport is at risk of being revoked, call Platinum Tax Defenders today for a free consultation. You can visit http://www.platinumtaxdefenders.com or call 866-866-8053.