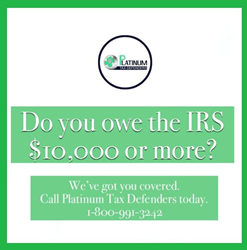 LOS ANGELES (PRWEB) May 28, 2019
With hurricane season expected to start next week, and the taxpayers in the Midwest already being affected by deadly tornados, it's crucial for individuals to know their rights and options for Natural Disaster Tax Relief. Platinum Tax Defenders understand that when disaster strikes, it can often take years to recover if recovery is even possible. To help individuals be more prepared in case a disaster strikes, the Platinum team have offered tips for understanding Natural Disaster Tax Relief options.
Who is eligible for Natural Disaster Tax Relief?
The IRS considers "affected" taxpayers to be anyone whose tax records exist in a federally designated disaster area. In addition, if your tax preparer is in a disaster area, you may also qualify to have your returns postponed or extended.
What are the special allowances for those affected taxpayers?
The IRS offers several particular rules and allowances for those impacted by natural disasters.
Unrestricted access to retirement accounts
Affected taxpayers can borrow up to $100,000 from a qualified employer retirement plan, such as 401(k), to help pay for damage caused by a natural disaster.
Extended deadline for tax filing
The IRS will often allow those affected by natural disasters an extension in filing their tax returns. Individuals who were affected by Hurricanes Harvey and Irma in 2017, or the California wildfires, were allowed to extend their filing date until January 31, 2018, more than three months after the original six-month extension.
Report the previous year's income for Earned Income Tax Credit and Child Tax Credit
Victims of natural disasters may also be allowed to claim the last year's income on their current year taxes to benefit from the Earned Income Tax Credit and Child Tax Credit. That particular provision enabled lower-income families to recoup some of the income lost if they couldn't' work due to a natural disaster.
Casualty Deductions
Individuals whose personal homes suffer damage as a result of a natural disaster are allowed to deduct the amount of damage done. Individuals can only deduct the amount that was not covered by insurance.
Charitable Deductions
For individuals who volunteer or send in supplies to aid victims of natural disasters, they can deduct the actual cost of driving, parking, or shipping as it relates to their volunteering.
Where to get help with Natural Disaster Tax Relief
Because tax rules can be complicated and may vary by area and natural disaster, it's beneficial to consult a tax relief professional when attempting to recover Natural Disaster Tax Relief help. A tax resolution professional can help victims of natural disasters understand their options and help them find the tax relief they need during times of emergency.
About Platinum Tax Defenders
Platinum Tax Defenders, a subsidiary of Cardiff Lexington Corporation, (Cardiff Lexington Corp [CDIX]) has been helping individuals navigate their tax situations with the IRS since 2011. The top-rated tax firm's tax resolution services have saved thousands of clients hundreds of thousands of dollars in tax debt. The expert team at Platinum Tax Defenders has experience working with taxpayers who have been affected by natural disasters. Platinum Tax Defenders (http://www.platinumtaxdefenders.com) is a forward-thinking leader in the tax resolution industry. The expert tax relief Los Angeles's team works with taxpayers who are struggling with small to large tax debts. Platinum Tax Defenders offers a wide variety of tax resolution, bookkeeping, and tax preparation services for individuals and businesses.
If you've suffered from a natural disaster, contact Platinum Tax Defenders for a free consultation today at 1-800-385-6840 or visit our web site at http://platinumtaxdefenders.com/