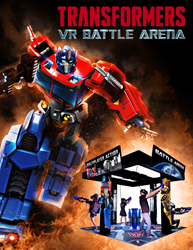 There are generations of fans who will now be able to experience actually becoming one of the huge TRANSFORMERS bots
MONTREAL (PRWEB) November 04, 2019
A new and exciting way to interact and engage with the TRANSFORMERS franchise is about to open thanks to global play and entertainment company, Hasbro Inc. (NASDAQ: HAS) and upstart game studio, Minority Media. The two have collaborated to bring the TRANSFORMERS franchise to life through an immersive, virtual reality, 4-person, player vs. player game "TRANSFORMERS: VR BATTLE ARENA."
"An out-of-home multiplayer virtual reality game is an exciting way to put fans right into the middle of the larger-than-life action associated with the TRANSFORMERS franchise," notes Casey Collins, GM & SVP of Entertainment and Licensing at Hasbro. "Now anyone can become the heroic Autobots Optimus Prime or Bumblebee, or unleash their inner Decepticon by stepping into the role of Megatron or Soundwave for a massively fun battle on the epic scale fans have come to expect."
"There are generations of fans who will now be able to experience actually becoming one of the huge TRANSFORMERS bots," states Vander Caballero, CEO of Minority Media, the award-winning game studio that created the popular location based entertainment multiplayer VR game Chaos Jump. "Minority Media and Hasbro have come together to craft a heart-pounding player versus player battle – a truly fun and immersive TRANSFORMERS adventure that delivers the awe-inspiring thrill of being and seeing building-sized TRANSFORMERS robots as you chase and fight your way through this game."
The game begins following the shattering of the powerful Allspark that scatters pieces of it across the world. Players collect Allspark shard power-ups found traversing the environments by defeating other Cybertronians in order to collect theirs. Whoever has the most shards at the end wins. The experience initially features three different epic-scale environments that has players crashing through a downtown cityscape, slugging it out in a refinery, and taking the fight to the docks.
"VR is getting traction and becoming more ubiquitous in out of home entertainment locations, but until now the big brand experiences have only been offered in tourist venues and big cities as standalone destinations," says Michael Zaidan, VP Business Development and Sales at Minority Media. "We are excited to bring a blockbuster brand like TRANSFORMERS to locations everywhere so fans can have a chance to enjoy this incredible experience in their hometown."
Hasbro and Minority Media will continue to expand game offerings after the title launches so returning players will have the opportunity to experience new TRANSFORMERS adventures with different characters, new team play modes, additional battle arenas, more powerups, and new weapons.
ABOUT MINORITY MEDIA:
Established in 2010, Minority Media is an award-winning game studio and creator of Chaos Jump, a turnkey multiplayer VR platform for Location Based Entertainment (LBE) that offers the highest revenue for operators thanks to the compelling curb appeal, the smallest footprint in its class, and the outstanding quality of the content. The company has Chaos Jump systems currently in operation in the United States, Canada, Mexico and Asia. Chaos Jump is designed to maximize revenue per square foot, while complementing (not cannibalizing revenue from) other LBE attractions within a venue. Minority Media's team consists of many of Canada's best video game makers. These innovators include the creators of some of the world's leading game franchises, including FIFA, Batman, Splinter Cell, Rainbow 6, GTA, Deus Ex, Assassin's Creed, and many others. Visit http://www.weareminority.com for more information and follow the company on Facebook (@weareminority), Instagram (@we_are_minority), Twitter (@we_are_minority), YouTube (@minoritymediainc), and LinkedIn (@minoritymedia).
ABOUT HASBRO:
Hasbro (NASDAQ: HAS) is a global play and entertainment company committed to Creating the World's Best Play and Entertainment Experiences. From toys and games to television, movies, digital gaming and consumer products, Hasbro offers a variety of ways for audiences to experience its iconic brands, including NERF, MY LITTLE PONY, TRANSFORMERS, PLAY-DOH, MONOPOLY, BABY ALIVE, MAGIC: THE GATHERING and POWER RANGERS, as well as premier partner brands. Through its entertainment labels, Allspark Pictures and Allspark Animation, the Company is building its brands globally through great storytelling and content on all screens. Hasbro is committed to making the world a better place for children and their families through corporate social responsibility and philanthropy. Hasbro ranked No. 13 on the 2019 100 Best Corporate Citizens list by CR Magazine, and has been named one of the World's Most Ethical Companies® by Ethisphere Institute for the past eight years. Learn more at http://www.hasbro.com, and follow us on Twitter (@Hasbro) and Instagram (@Hasbro).