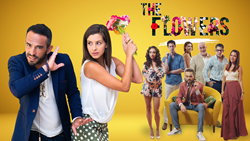 QUINTANA ROO, Mexico (PRWEB) September 25, 2020
The beauty of the Mexican Caribbean continues inspiring international productions. Viewers in the United States, Canada and Latin America will experience the iconic Playa del Carmen, the heart of Riviera Maya in the Mexican Caribbean, through the screen in "The Flowers", a new bilingual series debuting on Amazon Prime on September 25th.
The cosmopolitan city, which blends delicious gastronomy and innovative hospitality and entertainment experiences, was chosen as the principal filming location for "The Flowers", a fresh comedy that illustrates the complexity of interpersonal relationships in the art world.
The Golden Ceiba Productions series, directed by Guillermo Ivan and Nicholas Di Blasi, features performances by Ilean Almaguer, Guillermo Ivan, Zair Montes, Abril Schreiber, Ana Layevska, John Wiggins and Bradley Gregg, among others.
Over five episodes, viewers in the United States, Canada and Latin America can watch the magical settings of Playa del Carmen that have enchanted travelers around the world, including the famous Quinta Avenida, a site for excellent nightlife, luxe shopping, and art galleries.
With this new series, the Mexican Caribbean continues positioning itself as one of the leading locations for international entertainment, inspiring stories and enriching its arts & culture bona fides around the world – motivating travelers to explore the wonders found in each of its stunning destinations.
Viewers are encouraged to follow The Flowers' social media platforms and @gcflix for a chance to win an all-inclusive trip for two to Playa del Carmen in November. The three-day trip prize includes roundtrip airfare, accommodations at The Reef 28 Hotel (where the series was partially filmed), meals, and $100 cash. To enter, participants must repost The Flowers trailer to their Instagram Stories and tag the @gcflix account. The contest runs through Monday, Sept. 28.
For more information on the Mexican Caribbean, please visit https://www.mexicancaribbean.travel
For additional information, images and interviews with the cast of "The Flowers", please contact Marissa Labadie at mlabadie@ciicnews.com.
About Quintana Roo
Part of the stunning Mexican Caribbean, the state of Quintana Roo is one of Mexico's top tourism producers including destinations both world-renowned and off-the-beaten-path. From Cancun, Riviera Maya and Playa del Carmen to Isla Cozumel, Isla Mujeres, Holbox, Tulum, Maya Ka'an and Grand Costa Maya, Quintana Roo is known for its idyllic landscape, diverse activities, unique cuisine and the incomparable beauty of its Mayan ruins. The destinations that make up Quintana Roo have options for all kinds of travelers, from ultimate luxury in five-star resorts to close encounters with nature including swimming with whale sharks and cenote diving and international music, sporting, and gastronomic events.