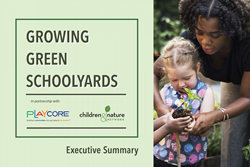 "We are excited about the release of this publication to support the green schoolyards movement. Survey results showcase the growing interest in green schoolyards and support for evidence-based planning and design principles that reaffirm the Green Schoolyard Action Agenda's vision and goals."
CHATTANOOGA, Tenn. (PRWEB) November 20, 2019
PlayCore and the Children & Nature Network joined forces to raise awareness and help scale the implementation of green schoolyards. Today, they continue this collaborative partnership with a new resource, the Growing Green Schoolyards Executive Summary. The brochure features initial research findings from a national survey and best practice design principles to continue momentum in the green schoolyards movement.
The Children & Nature Network defines green schoolyards as multi-functional school grounds designed for and by the school community that offer places for students, teachers, parents, and community members to play, learn, explore, and grow. Many partners have come together across the country to create and advance the vision that all U.S. communities offer access to green schoolyards by 2050 to enhance children's healthy development, community wellbeing and positive environmental impacts. Our partnership is presenting this executive summary on design principles that will be followed-up by a larger resource with case studies in 2020.
Download the resource today to read more about:

Reasons to invest, needed resources, and helpful tools insights from the survey
The eight best practice design principles and their key benefits for children
Resources for action and advocacy
PlayCore Research and Health & Wellness Advisor, Dr. Russ Carson adds, "We are excited about the release of this publication to support the green schoolyards movement. National survey results showcase the growing interest in green schoolyards and support for evidence-based planning and design principles that reaffirm the Green Schoolyard Action Agenda's vision and goals."
Visit playcore.com/green-schoolyards to read more about the movement and download the complimentary resource or contact PlayCore with questions by e-mail at info@playcore.com.
About PlayCore
PlayCore is a purpose driven Company committed to building healthy communities around the world by advancing play and recreation. The company infuses scholarly learning, through its Center for Outreach, Research, and Education, into its comprehensive family of brands. PlayCore combines best-in-class educational programming with the most comprehensive portfolio of play and recreation products and services to create tailored environments that match the unique needs of each community served. Visit playcore.com for more information.
About the Children & Nature Network:
We are leading a global movement to increase equitable access to nature so that children – and natural places – can thrive. We do this by investing in leadership and communities through sharing evidence-based resources, scaling innovative solutions and driving policy change. Visit https://www.childrenandnature.org/ for more information.