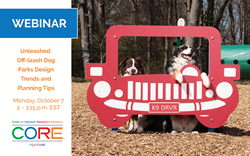 "Off-leash dog parks aren't just about the dogs," said Dr. Inés Palacios, Director of Recreation for PlayCore. "Our webinar will help advocate to ensure that each park is a fun, social experience for dogs and their owners in a healthy, active way."
CHATTANOOGA, Tenn. (PRWEB) October 02, 2019
PlayCore's Center for Outreach, Research & Education (CORE) will be hosting a complimentary webinar on off-leash dog parks design and planning on October 7, 2019 at 2 p.m. EST
The webinar will cover the benefits of off-leash dog parks for both individuals and the community, outline design considerations for park planning, demonstrate ways to increase park utilization, and provide real-life examples of successful parks.
Pet ownership has continued to rise over the past decade with almost half of households owning at least one dog. As a result, off-leash dog parks are highly sought-after assets in a variety of locations from apartment complexes to city parks. Ensuring an off-leash dog park is effectively designed and planned will create an environment that promotes health and well-being for dogs, their owners, and the community.
"Off-leash dog parks aren't just about the dogs," said Dr. Inés Palacios, Director of Recreation for PlayCore. "Our webinar will help advocate to ensure that each park is a fun, social experience for dogs and their owners in a healthy, active way."
CEUs for a total of 1 Professional Development Hours (.1 IACET / 1 LU AIA/ 1 PDH LA CES), educational resources, and a Certificate of Completion will be provided by PlayCore's CORE.
Registration and information for this webinar and other events can be viewed at playcore.com/events.
The instructors of this learning event are employed by PlayCore and disclose interest in participants partnering with PlayCore on their play and recreation initiatives.
About PlayCore:
PlayCore is a purpose driven Company committed to building stronger communities around the world by advancing play and recreation. The company infuses scholarly learning, through its Center for Outreach, Research, and Education, into its comprehensive family of brands. PlayCore combines best-in-class educational programming with the most comprehensive portfolio of play and recreation products and services to create tailored solutions that match the unique needs of each community served. Learn more at http://www.playcore.com.