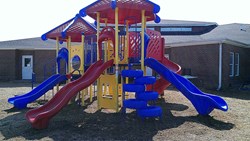 Winterville, NC (PRWEB) October 31, 2013
Christ Presbyterian Church recently purchased brand new playground equipment designed from American Parks Company. After careful consideration and hours of planning the church decided upon a structure named Mountain View. The Mountain View is designed for children ages 2-12 and can accommodate up to 40 children. The components of the Mountain View are commercial grade and are engineered to resist fading, mildew, and corrosion. The children of Christ Presbyterian will be proud of this play structure for many years to come.
Christ Presbyterian is a Biblical Congregation of believers who come together to worship God and fellowship with one another. They are located in the quiet town of Winterville, North Carolina, just outside of Greenville on Old Tar Road.
About American Parks Company
American Parks Company is a McKinney Texas based company that provides commercial grade park and playground equipment primarily to municipalities, city parks, schools, churches, daycare facilities, and homeowner associations. Since 2004, American Parks Company has consistently provided high quality play structures at extremely affordable prices. American Parks Company is an industry leader in both the national sales and installation of commercial playground equipment. For general information on American Parks Company, please call 1-800-381-4491 or visit http://www.AmericanParksCompany.com.
For media inquires, contact Marc Parker – Vice President of Marketing and Operations – sm(at)americanparkscompany(dot)com.
Corporate Address: 225 E. Virginia Street McKinney, Texas 75069.