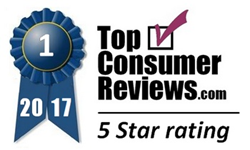 Known for carrying 'a zillion things home', Wayfair's selection of playhouses covers the full range of features and price points.
Overland Park, KS (PRWEB) May 08, 2017
TopConsumerReviews.com recently gave a best-in-class 5-star rating to Wayfair, a leader among online retailers of Playhouses.
From indoor tepees to large outdoor castles, playhouses are a popular way to entertain children and engage their imaginations. A far cry from the cardboard box with holes that some kids used to make, today's playhouses can range from a simple plastic cabin to complicated structures that include slides, rope swings, and much more. And, parents are no longer limited by what's available at local brick-and-mortar stores; shopping online puts the full range of modern playhouses at one's fingertips with just the click of a mouse.
"Known for carrying 'a zillion things home', Wayfair's selection of playhouses covers the full range of features and price points," according to Brian Dolezal of TopConsumerReviews.com, LLC. "Using the Wayfair website makes it incredibly easy to find just the right playhouse for your family. You can filter your options according to theme, construction material, age group, features, or gender, and you'll soon see that the sky's the limit. You'll also find that Wayfair's prices are extremely affordable, including free shipping on all orders above $69, regardless of size or product weight. For these reasons, Wayfair is our top pick among retailers of Playhouses in 2017."
To find out more about Wayfair and other online retailers of Playhouses, including reviews and comparison rankings, please visit the Playhouses category of TopConsumerReviews.com at http://www.topconsumerreviews.com/playhouses/.
About Wayfair
Wayfair offers a zillion things home. With one of the world's largest online selections of furniture, home furnishings, décor and goods, including more than seven million products from over 7,000 suppliers, Wayfair helps people find the perfect product at the right price. Their extensive selection and superior customer service coupled with the convenience of online shopping, make it easier than ever before to find exactly what customers want for their homes at a price they can afford.
About TopConsumerReviews.com
TopConsumerReviews.com, LLC is a leading provider of independent reviews and rankings of hundreds of consumer products and services. From Children's Playhouses to Bunk Beds and Swimming Pool Supplies, TopConsumerReviews.com delivers in-depth product evaluations in order to make purchasing decisions easier.