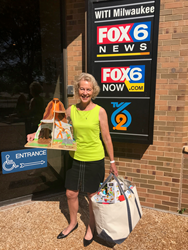 You are a force for play (and toys and time with family that matter)! Thanks for all you do for our children.
ELKHART LAKE, Wis. (PRWEB) October 20, 2019
Play On Words LLC, led by highly respected speech language pathologist Sherry Artemenko, announces 2019's Fall PAL Award Winners, the toy industry's only recognition directed by a credentialed speech-language expert recognizing the language learning edge in exceptional toys, games and media. Sherry's 35 years of child development experience with over 17,000 hours working with kids empower her PAL selections, video reviews, popular blog, media appearances (NBC Connecticut, FOX News Milwaukee), and consulting practice.
I continue to be fascinated by the impact parents' play with kids has on language development, a concept reinforced by recent research. What parents say and how they talk during play can make a difference. By simply using a strategy called "Toy Talk" where parents talk about the toys and give the toy a name, they up their grammatical models to their child and improve the growth trajectories of certain areas of their child's language development. Toys are the tools for a child's play which is why I've spent my career calling out the toys with the best language learning potential and coaching parents on how to play with their child to maximize learning.
Playonwords.com helps toy brands and consumers alike see the strategic value of language learning in play through its helping to build vocabulary, foster cooperation, express emotion, kindle creativity and expand descriptive and problem solving capacities. The PAL Award on the internet, packaging and in print media differentiates brands who know the marketplace now demands products that are not only fun, but also infused with learning potential. The gold seal with three smiley faces tells customers that more than great entertainment is to be found behind the box, book cover or app license.
EARLY DEVELOPMENT: Sherry's experience in pediatric speech therapy has given her an eye for the best products to build attention, vocabulary and concepts through play, preparing children for their first sounds, words and sentences. While fishing in the bathtub for pop-up fish, opening and closing latches and doors to learn counting, vocabulary and colors, or playing a surprise game that grows bubbles on the back of a sneezing sheep, kids learn essential early language skills.

Baa Baa Bubbles by Spin Master
Friends of a Feather by Ravensburger
From Birth to First Words by Lynn Carson, Talking Together
Hape Double Fun Fishing Set
Latches & Doors Busy Board by VTech
Learn & Groove Shakin' Colors Maracas by LeapFrog
READING AND WRITING: Building with letter blocks that access an electronic cube to teach pre-literacy skills, seeing your name repeated in print throughout a fun personalized book, or exploring the human body with an interactive video stylus that captures the workings inside, all help children pick up essential skills to advance reading and writing.

Bluebee Pals Techie Rangers Book & Activity Guide by Kayle Concepts
Language Together Set 2
LeapBuilders ABC Smart House by LeapFrog
LeapStart Go by LeapFrog
RockIt Twist by LeapFrog
That's MY Cake! by Wonderbly
LANGUAGE STRUCTURE, CRITICAL THINKING AND REASONING: These outstanding products can build language structure, critical thinking and reasoning, often teaching vocabulary, concepts or grammar while delivering fun. Chase the eagle across the map of the United States, learning critical facts about parks, monuments and historical places while relating your own experiences, or put on your chemist cap and experiment with arctic options to make a chill thermometer, cold lava or glistening snow slime, analyzing and recording your findings to strengthen communication skills.

Crayola Color Chemistry Arctic Lab
Eagle Chase by SimplyFun
Match-O-Rama by The Op | Usaopoly
SPARK Jr. Sequencing Cards by Spark Innovations
Twisted Tales by SCS Direct
STORY-TELLING / PRETEND PLAY: Whether piloting a mighty jet command center to come to the rescue, captaining a pirate ship while loading the cannon or walking the plank, or serving up a tempting treat in a play kitchen with sink, range, oven and chalkboard to write your menu, children enter the world of pretend, creating their own stories with plenty of flexible props to guide their imagination. Oral story-telling precedes writing as kids learn the steps to create a good narrative.

Adventure Treehouse by Schleich
Candylocks Doll by Spin Master
Crayola Scribble Scrubbie Safari Oasis
Hape Cook 'n Serve Kitchen
Juno My Baby Elephant by Spin Master
Kinetic Sand Sandisfying Set by Spin Master
King George's Castle by Bigjigs Toys
Mickey's Snuggletime by Wonder Forge
Myla the Magical Unicorn by VTech
PAW Patrol Mighty Jet Command Center by Spin Master
Smart Sizzlin' BBQ Grill by LeapFrog
Treasure Seekers Pirate Ship by VTech
SOCIAL LANGUAGE: Complementary to pretend play, social language blossoms when children play with toys and games and interact with media that encourage extended social interactions. Matching and identifying facial expressions to start the conversation about our own emotions and situations that sparked those feelings, or teaching a pretend plush friend how to be kind, brave, and help others, can equip kids to better name, understand and manage their emotions, leading to stronger EQ's.

Miniland Emoti Blocks
Mix & Match-a-Saurus by VTech
Portable North Pole by UGroupMedia
ABOUT PLAYONWORDS.COM
Playonwords.com was founded by well-respected speech-language pathologist, Sherry Artemenko. Her 35 years championing language rich play, esteemed PAL Award, popular blog, and insightful tips to parents set her apart as the leading advocate for the language component in toys.
Over 17,000 hours working directly with children has shown her that a unique set of the best toys, games and books have the capability to develop language while delivering great play. Studies show:
Kids with highest IQs at three, had the most words at one and two
Language learning is cumulative – early words => early sentences => language & reading
Most kids maintain their verbal advantage through childhood
Creative pretend play that sparks story-telling can advance future literacy
Sherry established the PAL Award to identify unique toys, games and books that through their design, quality and character, encourage play that advances language. PAL winners in the hands of kids, spark fun and creative play with lots of talk. Such toys, recognized on the basis of her child development expertise, are complemented by practical coaching in her blog, showing parents, caregivers and teachers how to get the most from toys, games and books to build language and underlying cognitive skills.