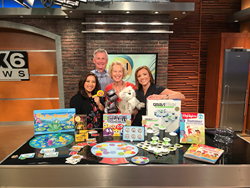 the almost right word and the right word is really a large matter—'tis the difference between the lightning-bug and the lightning
ELKHART LAKE, Wis. (PRWEB) June 05, 2019
Play On Words LLC, led by highly respected speech language pathologist Sherry Artemenko, announces 2019's Spring PAL Award Winners, the toy industry's only recognition directed by a credentialed speech-language expert recognizing the language learning edge in exceptional toys, games and books. Sherry's 35 years of child development experience with over 17,000 hours working with kids empower her PAL selections, video reviews, popular blog, media appearances (NBC Connecticut, FOX News Milwaukee), and consulting practice.
The importance of rich pretend play and language input during a child's early years has been established. Research shows that the language surrounding a preschooler's pretend play and the size of his vocabulary positively impact reading measures in kindergarten. In a March, 2012 Psychology Today post, Scott Barry Kaufmann recounts a number of studies showing how make-believe games are forerunners for the important capacities to self-regulate, delay gratification and be empathetic (Hirsch-Pasek, Golinkoff, Berk, & Singer, 2009). Kaufmann also called out studies showing pretend play ties to developing cognitive flexibility and ultimately a child's creativity.
Playonwords.com helps toy brands and consumers alike see the strategic value of language learning in play through helping to build vocabulary, foster cooperation, express emotion, kindle creativity and expand descriptive and problem solving capacities. The PAL Award on the internet, packaging and in print media differentiates brands who know the marketplace now demands products that are not only fun, but also infused with learning potential. The gold seal with three smiley faces tells customers that more than great entertainment is to be found behind the box, book cover or app license. Here's what's great in Spring One-Eight!
EARLY DEVELOPMENT: Sherry's experience in pediatric speech therapy has given her an eye for the best products to build attention, vocabulary and concepts through play, preparing children for their first sounds, words and sentences. Whether traveling by rail to the bottom of the ocean, blowing on a rattling trumpet, matching colors in a belly button game, or listening and making music on a first mini band of instruments, kids can learn essential speech and language skills.

babu Rollers by MindWare
Brio My First Farm
Butterfly Counting Pal by LeapFrog
Button, Button, Belly Button by Peaceable Kingdom – A MindWare Brand
Ditty Bird Musical Books by MEMA Enterprise PTY LTD
First Words Baby Babble Training Trumpet by People Toy Company
Lights & Stripes Zebra by VTech
Mighty Mini Band by Hape
My First Shaped Puzzles–Pet Friends by The Learning Journey
My Peek-a-Boo LapPup (Scout or Violet) by LeapFrog
Oribel VertiPlay Tree Top Adventure
Sensory Bath Mobile by Yookidoo
Under Sea Figure 8 Railway by Hape
READING AND WRITING: Hopping your frog along the connected lily pads of letters to spell your word, making your way through a big fun workbook to practice letters, reading and writing, or exploring weather, music, and letters on a mini remote, all help children pick up essential skills to advance reading.
Lily Pond by SimplyFun
Scout's Learning Lights Remote Deluxe by LeapFrog
Summer Big Fun Workbooks by Highlights
LANGUAGE STRUCTURE, CRITICAL THINKING AND REASONING: These outstanding products can build language structure, critical thinking and reasoning, often teaching vocabulary, concepts or grammar while delivering fun. Create an efficient three dimensional marble run based on gravity, magnetism and kinetics using a specialized trampoline accessory, combine word halves to build your best word to match silly creative definitions, or configure the Brain Train's shaped block cargo to match logic cards, to strengthen communication skills.
Astro Trash by USAopoly
Dig it Up! Discoveries Dragons by MindWare
Gotta Word by Cortex Toys
Gravitrax Trampoline by Ravensburger
Heads Talk Tails Walk by ThinkFun
Hoo Hoo Who? by Mary Maier with Lauren Horton
KEVA Cutouts by MindWare
Long and Tall Puzzles-Big to Small Animals by The Learning Journey
New York Day & Night by Aurelie Pollet and Vincent Bergier
Paw Patrol Skye Learning Watch by VTech
SMARTGAMES Brain Train by Smart Toys and Games
Stick Figure it Out by Cortex Toys
SPARK Cards by SPARK Innovations
STORY-TELLING / PRETEND PLAY: While setting up, selling, scanning and operating the cash register at a Pop Up Shop, appropriately packing a mini suitcase for pretend trips around the house, or building your own story of Jack and the Beanstalk using magnetic cubes with attached props, children enter the world of pretend, creating their unique stories with plenty of flexible props to guide their imagination. Oral story-telling precedes writing as kids learn the steps to create a good narrative.
Cuddly Kitten by Faber-Castell USA
Dinosaur Island by Bigjigs Toys Ltd
Folkmanis Robot Puppet
Folkmanis Snow Leopard Cub Puppet
Jet Duck Family (Pirate, Mermaid, Firefighter) by Yookidoo
Magicube Jack and the Beanstalk by Geomagworld
Magicube Nursery Rhymes by Geomagworld
Paint Your Own Fairy Garden by MindWare
Pop Up Shop by Hape
SMARTMAX My First Dinosaurs by Smart Toys and Games
Snap Dolls by Cortex Toys
Topper Takes a Trip by Peaceable Kingdom - a MindWare Brand
Under the Sea Floor Puzzle by Bigjigs Toys Ltd
SOCIAL LANGUAGE: Complementary to pretend play, social language blossoms when children play with toys and games and interact with media that encourage extended social interactions. Playing cooperatively to help Piggy drop off her animal friends at the dentist, Pizza Parlor and Book Store and remember where to pick them up, recognizing emotions depicted by facial expressions, while imitating and linking them to personal experience, or working as a seal squad team to collect more fish than the walrus in a game of strategy and location, can teach kids to work together and equip them to better name, understand and manage their emotions, leading to stronger EQ's.
Guess It, Get It, Gumballs by Peaceable Kingdom – A MindWare Brand
Hoyle Mixed Emojis
Hoyle Seal Squad
Pick Me Up, Piggy! by Peaceable Kingdom – A MindWare Brand
Wake Up Stars by SimplyFun
Playonwords.com was founded by well-respected speech-language pathologist, Sherry Artemenko. Her 35 years championing language rich play, esteemed PAL Award, popular blog, and insightful tips to parents set her apart as the leading advocate for the language component in toys.
Over 17,000 hours working directly with children has shown her that a unique set of the best toys, games and books have the capability to develop language while delivering great play. Studies show:
Kids with highest IQs at three, had the most words at one and two
Language learning is cumulative – early words => early sentences => language & reading
Most kids maintain their verbal advantage through childhood
Creative pretend play that sparks story-telling can advance future literacy
Sherry established the PAL Award to identify unique toys, games and books that through their design, quality and character, encourage play that advances language. PAL winners in the hands of kids, spark fun and creative play with lots of talk. Such toys, recognized on the basis of her child development expertise, are complemented by practical coaching in her blog, showing parents, caregivers and teachers how to get the most from toys, games and books to build language and underlying cognitive skills.