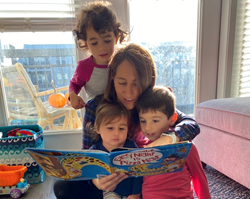 "Results revealed a learning loss of about 3 percentile points, the equivalent to one-fifth of a school year. Losses are up to 60% larger among students from less-educated homes, confirming worries about the uneven toll of the pandemic on children and families."
PHILADELPHIA (PRWEB) May 27, 2021
In the last year, parents, caregivers, teachers, therapists and children have learned together and acclimated to a new way of life. We've experienced disrupted school schedules. We've juggled changes for in-person learning, Zoom classes, homeschooling, and maybe even a sprinkle of hybrid school. Despite everyone's best efforts, studies showed that students suffered "a learning loss of about 3 percentile points or the equivalent to one-fifth of a school year. Losses are up to 60% larger among students from less-educated homes, confirming worries about the uneven toll of the pandemic on children and families."
However, through it all, play remains a crucial part to our children's development. Play is a child's way of exploring, learning about consequences, understanding relationships, operations, and discovering their own selves. This year, many children received less "formalized" schooling due to the global pandemic and school disruptions. However, unstructured play in the early years is critical, despite the creeping up of letter learning and reading at earlier ages. In the last year, families have spent more time together inside, learning, playing, and connecting. The PAL Award continues to seek out the best toys that foster learning through play and encourage the strengthening of the parent-child dyad.
Playonwords.com helps toy brands and consumers alike see the strategic value of language learning in play through its helping to build vocabulary, foster cooperation, express emotion, kindle creativity and expand descriptive and problem solving capacities. The PAL Award on the internet, packaging and in print media differentiates brands who know the marketplace now demands products that are not only fun, but also infused with learning potential. The gold seal with three smiley faces tells customers that more than great entertainment is to be found behind the box, book cover or app license.
EARLY DEVELOPMENT: Erika's experience in pediatric speech-language therapy has given her an eye for the best products to build attention, vocabulary and concepts through play, preparing children for their first sounds, words and sentences. While completing puzzles to learn vocabulary and part-whole relationships, learning cause and effect in a bath tub, or participating in a scavenger hunt while building word knowledge and vocabulary, kids learn essential early language skills.

Cookie Monster Construction Worker by GUND
Cozys by GUND
Fab Pals by GUND
Find and Seek Scavenger Hunt Card Game by HapiNest
Kissy Animated Penguin by GUND
Lil' Critters Soothing Starlight Polar Bear by VTech
Magical Mermaids Bath Puzzle by MindWare
Musical Whale Fountain by Hape
Oh So Snuggly Collection by GUND
Seek-a-Boo Mix and Match Memory Game by MindWare
Silly Shark by The Learning Journey
READING AND WRITING: As children grow older, literacy becomes a focus in academics. Combining math and language in word problems, rhyming to a musical beat, letter matching and understanding sounds, word creating to beat a timer, and reading rhythmic stories pick up essential skills to advance reading and writing.

100 Words About Places I Go by VTech
Everybody Loves Acorn Soup by MindWare's Peaceable Kingdom
Rhyme Antics
Rooby's ABCs by SimplyFun
Think Tank Scholar 600 Pocket-Size Math Flashcards
Winter, Spring, Summer, Fall: Poems and Games for All!
Word Witt
LANGUAGE STRUCTURE, CRITICAL THINKING AND REASONING: These outstanding products can build language structure, critical thinking and reasoning, often teaching vocabulary, concepts or grammar while delivering fun. Crafting and DIY building projects out of sticks while observing, solving problems, and drawing conclusions, counting and strategizing while making banana splits, quickly name items within a category for faster word retrieval, or practice reasoning and vocabulary skills to better learn and understand idioms.

25 Words or Less by USAOpoly
Block Chain by ThinkFun
Bold Made by Bold Made
Candy Collections by Cybele's Games
Craft Stick Creations by hand2mind
GRAVITRAX PRO: Starter Set and Expansion Accessories.
Idiom Addict by The Good Game Company
Imagination Links by MindWare
Raya's Journey: An Enchanted Forest Game by Ravensburger
Tapple by USAOpoly
With a Cherry on Top by MindWare's Peaceable Kingdom
STORY-TELLING / PRETEND PLAY: Whether cooling off and creating a water current with friends, creating puzzles and telling stories about your neighborhood or dinosaur friends, or serving up yummy kinetic sand ice cream treats, children enter the world of pretend, creating their own stories with plenty of flexible props to guide their imagination. Oral story-telling precedes writing as kids learn the steps to create a good narrative.

AQUA Splish Splash Water Park by PLAYMOBIL
Brio Battery Operated Steaming Train and Accessories by Brio
Create a Scene Neighborhood by The Learning Journey
Dinosaurs in Space by Ravensburger
Go! Go! Cory Carson Two Scoops Eileen Ice Cream Truck by VTech
Kinetic San Scented Ice Cream Playset by Spin Master
Monster at the End of this Story by Create On
Panda Playground by EZ Play Toys
Paw Patrol Moto Pups HQ Playset by Spin Master
Rocky Reuse It Truck by Spin Master
Scribble Scrubbie Pets by Crayola
Stack Your Chickens by Peaceable Kingdom
Sunny Day Mobile Farm Stand by Schleich
Toca Life Subscription Boxes by Spin Master
SOCIAL LANGUAGE: Complementary to pretend play, social language blossoms when children play with toys and games and interact with media that encourage extended social interactions. Naming, and recognizing emotions in oneself and others through a color changing tiger, representing yourself and others around you with multiple choices of colors, children understand and manage their emotions, leading to stronger EQ's.

Busy Busy Bake Shop by MindWare's Peaceable Kingdom
Colors of the World by Crayola
Secret Squad by Gamewright
Sparklings Paige the Tiger by VTech
ABOUT PLAYONWORDS.COM
Playonwords.com is fueled by well-respected speech-language pathologist, Erika Cardamone. Her 15 years championing language rich play, lead reviewer for the PAL Award, popular blog, and insightful tips to parents set her apart as the leading advocate for the language component in toys.
Over 10,000 hours working directly with children has shown her that a unique set of the best toys, games and books have the capability to develop language while delivering great play. Studies show:
Kids with highest IQs at three, had the most words at one and two
Language learning is cumulative – early words => early sentences => language & reading
Most kids maintain their verbal advantage through childhood
Creative pretend play that sparks story-telling can advance future literacy
Erika hopes that parents will recognize the PAL Award to identify unique toys, games and books that through their design, quality and character, encourage play that advances language. PAL winners in the hands of kids, spark fun and creative play with lots of talk. Such toys, recognized on the basis of her child development expertise, are complemented by practical coaching in her blog, showing parents, caregivers and teachers how to get the most from toys, games and books to build language and underlying cognitive skills.