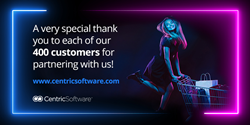 We chose Centric because we wanted a long-term partner whose solution can grow and expand as we do.
CAMPBELL, Calif. (PRWEB) December 10, 2020
Centric Software, the Product Lifecycle Management (PLM) market leader, is celebrating partnerships with 400 customers, approximately 60 who have adopted Centric PLM since the COVID pandemic began. The current pandemic underscores the fundamental need for digital solutions when bringing consumer products to market by enabling remote working in addition to driving cost savings, efficiency, business agility and team collaboration. Centric Software has a proven history of providing the most innovative PLM solutions to introduce new products to market faster, greener and at an optimal cost.
Centric PLM users include companies of all types and sizes spanning 30+ countries such as retailers, brands and manufacturers. From brick and mortar, e-commerce, direct to consumer, traditional wholesale and multi-channel businesses, Centric PLM innovations are leveraged to plan, design, develop, source and sell a variety of products such as apparel, footwear, sporting goods, furniture, home décor, cosmetics, food & beverage, luxury, private labels and more. Approximately $1 trillion worth of goods are brought to market each year via Centric PLM innovations through approximately 1,000,000 retail points of sale.
Centric Software leads the market in broadening the scope and depth of PLM, employing digital board and mobile app innovations paired with Quick Start and remote deployment to drive digital transformation initiatives, especially critical under current pandemic conditions. 35% of Centric PLM customers have chosen to migrate to Centric's out-of-the-box, highly configurable PLM solutions from another PLM vendor, with the remainder replacing home-grown systems using spreadsheets, cloud document sharing and other data management software.
A sincere thank you to both our long-time customer partners as well as recent additions to the Centric Software family such as Chinese e-com giant, JD.com, long-time customer American footwear brand, Crocs, and world-famous European luxury brand Balenciaga, in addition to the companies below.
"We were early adopters of Centric PLM 11 years ago, and we made the right choice," says Ryan Harris, Vice President of Product at the US-based outdoor brand Klim. "Centric was a young company back then, but their customers spoke really highly of them. Centric PLM has been instrumental in our growth and has enabled us to launch high-quality, innovative products in the outdoor market."
"We were really impressed, not only with Centric's approach to innovation and best practices, but their ability to remotely deploy so we were able to start using Centric PLM in about a week in accordance with an urgency on our side. Under any circumstances, this would have been impressive but considering the pandemic, it was a minor miracle and a great way to start off our partnership, " says Nathan Grant, Vice President of Creative at the American Bioworld, the leading global manufacturer of licensed apparel & accessories.
"We are thrilled to have recently decided to partner with Centric on our PLM journey. We are happy to join the Centric family of innovative brands, retailers and manufacturers and look forward to a long partnership together," says Rosita Van Vuuren, Head of Sourcing, Quality and Merchandise Operations at Best&Less, an Australian multi-channel retailer.
"We knew we needed 'one version of the truth' and a slick and easily defined product development process. We've never had an issue with delivering our products on time, but prior to Centric PLM there was an excessive amount of work behind the scenes to make it all happen," says Andrew Yeomans, Wacoal Europe Supply Chain Director at leading lingerie brand, Wacoal Europe.
"After a rigorous selection process, we chose Centric PLM to gain efficiencies from design to manufacturing to retail." says Jamieson Yee, Senior Vice President, Global Product, UX & QA at the innovative fashion company, TechStyle Fashion Group. "As a fast-growing membership commerce company with multiple global brands, we required a solution that could scale and grow with us. Centric's industry-leading technologies—such as mobile apps—enable our teams to deliver on-trend styles that consumers want."
"Centric is user-friendly, intuitive and perfect for our growing business," says Lauren Taflinger, Senior Director of Production, R&D at the fast growing US sustainable style brand, Rothy's. "The Centric team is very informative and supportive, and there's a great sense of comfort in having one place for product data and a digital workspace where we can collaborate faster, streamline communication and analyze our progress."
"We chose Centric because we wanted a long-term partner whose solution can grow and expand as we do," says Kalin Mowry, Director of Production and Development at the high-end Californian swimwear brand, Frankies Bikinis.
"We would like to thank the 400 companies spanning industries from fashion to footwear to furniture to food that trust the Centric team to deliver the digital transformation, innovation and efficiency gains they need to pursue their goals," says Chris Groves, President and CEO of Centric Software. "We are truly honored by each and every customer that chooses to work with us."
Learn more about Centric PLM