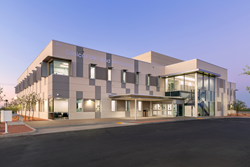 PMB's ambulatory care strategy expertise, partnership culture and agility in navigating through a highly-complex New Markets Tax Credit financing structure allows Clinicas to continue our mission to improve the health and well-being of the communities we serve...
EL CENTRO and SAN DIEGO, Calif. (PRWEB) October 31, 2019
PMB, one of the nation's leading real estate developers and owners across the continuum of care, is pleased to announce the completion of their newest project, Clinicas de Salud del Pueblo's El Centro Health Center (ECHC), in the heart of California's Imperial Valley.
Clinicas de Salud del Pueblo, a Federally Qualified Health Center (FQHC), needed more than a typical medical office building – it has a special purpose and story for how it came to be. It's important to understand the dynamics of the environment surrounding this new healthcare facility located in El Centro, Calif., halfway between San Diego and Arizona, just 12 miles north of the Mexico border. The fabric of the community is based on the long-standing agricultural landscape throughout the area and the workers that support it, half of the community to be exact. El Centro is situated within Imperial County, a geographically isolated region in California's vast southeastern desert. It has a constant flow of bi-national agricultural workers, tourists and residents crossing the nearby U.S./Mexico border daily. Imperial County ranks 57th out of 57 California counties for health factors overall, with a severe shortage of medical, dental, and mental health providers. Its social and economic demographics contribute to many barriers when trying to access health care services. Given its population of migrant and seasonal labor, Imperial County continually has the highest unemployment rate in California. As of June 2019, Imperial County's unemployment rate was 18.6 percent vs. 3.7 percent in the United States overall. (Source: U.S. Bureau of Labor Statistics Labor Force http://www.bls.gov/lau/data.htm accessed 8/2019) There is also a deficit in facilities for local students to complete their medical training and internship programs, further adding to the medical provider shortage.
Through the partnership with Clinicas, PMB secured an off-market site located within a larger retail setting with tremendous access and visibility. PMB led the development of the new two-story, 45,000 square foot outpatient care center which is the new face of health and wellness in the Imperial Valley. The Project advanced Clinicas' mission to expand healthcare access, enhance preventative and clinical services and bolster training and education to the population of the Imperial Valley.
Yvonne Bell, CEO of Clinicas de Salud de Pueblo noted that, "Clinicas partnered with PMB to expand services, improve access and redefine the patient experience in the Imperial Valley. PMB's ambulatory care strategy expertise, partnership culture and agility in navigating through a highly-complex New Markets Tax Credit financing structure allows Clinicas to continue our mission to improve the health and well-being of the communities we serve through providing access to excellent care, available to all."
The ultimate financing structure was as unique as the project itself, as traditional equity and debt financing was limited due to the non-traditional market, demographics and Clinicas unique FQHC reimbursement structure and financial profile. As a result, PMB analyzed many different financing structures and identified the Federal New Markets Tax Credit (NMTC) program as the most beneficial financing construct for Clinicas. PMB received a $24,500,000 Qualified Equity Investment allocation from three Community Development Entities through the Federal New Markets Tax Credit program. One hundred percent of the New Markets Tax Credit benefit, which netted $4.3 million, was allocated to Clinicas which was used to fund fixtures, furniture and equipment in the facility.
"The larger, new healthcare center has enabled Clinicas to increase patient capacity by 85 percent, create 152 new permanent jobs, and expand its healthcare services and specialties," says Ben Ryan, PMB Partner and CFO. "Most importantly, the new facility is helping Clinicas deliver on their mission and improving local residents' access to the highest quality healthcare."
With the increased capacity the new clinic is accepting patients for adult medicine, behavioral health, dentistry, pediatrics, podiatry, neurology, radiology, women's health, 3D-4D OBGYN ultrasounds, and has expanded the medical department as well as adding a new pharmacy, and optometry services. These new services have increased patient access to specialty services and enhances the integrated care system that addresses multiple, diverse needs at a single facility and will lead to a much more efficient, effective, comprehensive, patient‐centered model of care. The new facility will also house the El Centro Clinic in addition to Clinicas' administrative staff.
The new clinic is designed to complement and embrace the local geography and environment. The concrete, tilt-wall building reacts to the natural geography and climate of the area and includes specially designed solar shading at the east, west and southern exposures. The site also utilizes a local, drought tolerant plant palette that is harmonious with the contemporary building design. Nadel Architects, ranked amongst the top architectural firms in the United States, provided building architectural services. Javier Diaz Architects, who provides architectural services to the Imperial Valley and San Diego County, provided tenant architectural services and San Diego-based Pacific Building Group, one of the region's leading general contracting firms, served as the General Contractor.
About PMB
PMB is a full-service healthcare real estate development company that works with health systems, hospitals, medical groups, specialty providers and academic medical centers. PMB takes tremendous pride in its dedication to changing the way healthcare is delivered through innovative development of healthcare-related facilities. Its breadth of work includes ambulatory care centers, medical office buildings, inpatient hospitals, post-acute hospitals, senior living and parking structures. PMB has developed over 100 facilities to date representing approximately 5.5 million square feet. The firm owns and manages 66 medical facilities comprising over 4.2 million square feet. For more information, please visit http://www.pacificmedicalbuildings.com.