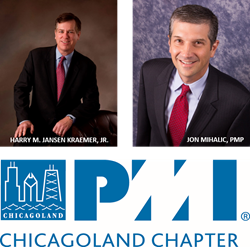 'We want to provide this unique opportunity to leaders from Chicagoland organizations and build a community for knowledge sharing.' - Stefan Lorincz, VP of Business Outreach, PMI Chicagoland Chapter
Wheeling, IL (PRWEB) February 23, 2015
PMl Chicagoland is hosting its premier leadership event of the year, the 10th Annual Leadership Forum, on May 8, 2015, from 7:45 a.m. to 3:00 p.m. at the Chevy Chase Country Club, 1000 N Milwaukee Ave., Wheeling, IL 60090.
This is an exclusive, invite-only event, bringing together executives from various industries, who are facing similar challenges with "Talent Management for Strategic Initiatives." It offers practical leadership insights and an opportunity to network with peers from Chicagoland companies.
Hear the view from the CEO and engage in panel discussions with top level executives, sharing techniques and real examples of management practices leading to success.
Keynote speaker Harry Kraemer, Jr. is the former Chairman and CEO of Baxter International, a $12 billion global healthcare company. He is a renowned dynamic speaker and the author of a bestselling leadership book entitled "From Values to Action: The Four Principles of Values-Based Leadership." Mr. Kraemer is an executive partner with Madison Dearborn Partners, a private equity firm based in Chicago, Illinois, and a clinical professor of management and strategy at Northwestern University's Kellogg School of Management. He is active in business, education and civic affairs, and serves on the board of directors of a number of corporations. He is a member of the Commercial Club of Chicago, the Chicago Council on Global Affairs, and the Economics Club of Chicago.
Keynote speaker Jon Mihalic, PMP, has been on the Board of Directors of Project Management Institute for many years and is a frequent speaker at management conferences around the world. Mr. Mihalic has over twenty years of program and project leadership experience infusing innovation and new thinking across corporate strategy. His experience encompasses executive leadership, acquisition and P&L responsibilities, EPMO, managing programs and projects, leading innovative research and developing and institutionalizing program and project management capabilities for Fortune 500 companies. Currently, Mr. Mihalic is the director of Fannie Mae's Securitization Program Office and an adjunct professor at Georgetown University.
The reference papers for the event are the latest in the PMI Thought Leadership Series focused on how talent management impacts the successful implementation of strategic initiatives. Research, by PMI in partnership with PwC, the Economist Intelligence Unit (EIU) and Human Systems International (HSI), shows what companies need to focus on, to boost talent management capability.
Following the keynote addresses, selected panelists who are senior leaders in human resources from major corporations in the Chicagoland area, will share real life practices and answer questions addressing how strategic talent is sourced, developed and retained.
Chapter members and non-members are welcome to attend. If you are an executive, PMO senior program director or project director, please click here to request an invite to this event and use the Invitation Code: PR1
About PMI Chicagoland
With over 4,000 members in the Chicago metropolitan area, PMI Chicagoland is the 5th largest chapter in the world and one of the most active chapters in the Project Management Institute (PMI).