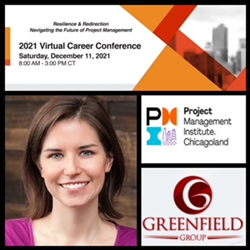 CHICAGO (PRWEB) November 22, 2021
The PMI Chicagoland Chapter continues its commitment to the safety and well-being of its member community. Based on the CDC and local guidelines given the recent surge in coronavirus cases and the delta variant, the 2021 Career Development Conference will be a virtual event to be held on Saturday, December 11, 2021, from 8:00 AM to 3:00 PM CDT.
The Chapter invites the public to attend this key event. This year's theme is Resilience & Redirection -- Navigating the Future of Project Management. Event offerings are intended to inform and empower attendees on their individual career plan development, and provide a supportive community to navigate towards the future of the field.
The Keynote address by Kathleen Walch, Managing Partner and Principal Analyst from Cognilytica, is on "Navigating the Future of Project Management with Artificial Intelligence (AI)". Cognilytica is a research, advisory, and education firm focused on advanced data analytics, cognitive technologies, and evolving areas of AI and machine learning application, in both the public and private sectors. She is also a host of the popular AI Today podcast on relevant information in the world of artificial intelligence.
Attendees can then join one of three facilitated conversations:

Further discussions surrounding the keynote topic including an Introduction to AI and AI Proofing Your Career
Networking session with peers in three industries: Information Technology, Health Care, and Supply Chain
Q&A about project management certifications and mentorship opportunities
The rest of the event is divided into three learning tracks. Click each one to learn more.

Consulting Track, designed for attendees looking to pave their own career path or interested in breaking into freelance consulting
Growth Track, designed for attendees looking to grow into a leadership role or promote their career to the next level
Transition Track, designed for attendees looking for better opportunities, pivoting into the project management field, or seeking guidance on how to navigate the changing market
Why Attend? Invest in professional development and gain insights on new skills for only $10 for members/$15 for non-members. Be open to exploring new opportunities and ways of working. Participate from anywhere and earn PDUs.
Many thanks to event sponsor The Greenfield Group, a management consulting firm where leaders, thinkers, and doers drive business transformation. Reach out to info@greenfieldgroupinc.com for inquiries and career opportunities.
About PMI Chicagoland Chapter
With over 4,000 members in the Chicago metropolitan area, PMI Chicagoland is one of the largest and most active chapters of the Project Management Institute (PMI), the world's leading not-for-profit professional membership association for the project, program, and portfolio management profession. Founded in 1969, PMI delivers value for more than three million professionals working in nearly every country in the world through global advocacy, collaboration, education, and research.