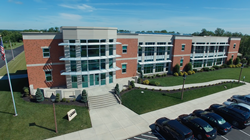 "We've seen exceptional growth over that last two years..." said Vice President of Sales Aaron Vicari. "We look forward to surpassing expectations once again in 2020."
MONACA, Pa. (PRWEB) January 16, 2020
Pocket Nurse reported record earnings in 2019, surpassing all previous sales totals as it heads into its 28th year. Pocket Nurse reached its second highest earnings in 2018.
"We've seen exceptional growth over that last two years, thanks to the hard work and dedication of our team as well as the loyalty of our customers," said Vice President of Sales Aaron Vicari. "We look forward to surpassing expectations once again in 2020."
The news of record sales comes as Pocket Nurse celebrates its 28th anniversary in January 2020. Pocket Nurse President and Founder Anthony Battaglia, MS, BSN, RN created Pocket Nurse in 1992 to support nurse educators through simulation and nursing education tools. The company now offers thousands of tools to nursing, emergency medical services (EMS), pharmacy, career technical education (CTE), physical therapy (PT) and occupational therapy (OT).
"Our goal is the same as in 1992," said Battaglia. "We want to meet the needs of healthcare educators. They have an important role in preparing future healthcare professionals and deserve our full support."
Senior Vice President Eric Bordenstein looks forward to more growth. "We've set aggressive goals again in 2020," said Bordenstein. "We plan to meet those goals with enhanced forecasting to better meet the needs of our customers, as well as improved communications inside and outside of Pocket Nurse."
About Pocket Nurse
Pocket Nurse is nurse owned and operated and has been a trusted partner in simulation education for nursing, EMS, pharmacy technology, and allied health since 1992. We provide over 5,000 simulation solutions to healthcare educators nationwide. We're proud of our role in improving patient outcomes by enhancing suitable learning environments for future healthcare professionals.