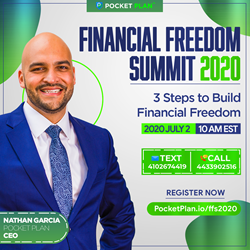 ANNAPOLIS, Md. (PRWEB) July 02, 2020
Enjoy Fourth of July this year with an event that helps you build financial security. The Financial Freedom Summit is an interactive six hour live class to improve your finances. Join Nathan Garcia, the founder of Pocket Plan, for a step by step wealth building program.
Answer your money questions live as Nathan interviews industry professionals and discusses:

Financial Freedom in 2020 (Introduction & Overview)
Making Your Taxes Work For You (Tax Planning)
Saving for Your Freedom Plan (Retirement Plans)
Build a 5 Star Investment Portfolio (Choosing Investments)
How to Create Generational Wealth in America (Estate Planning)
Living Your Freedom Plan (Strategy & Close)
The program is available for free to through July 5th. Users can register to receive notes & learn more at https://www.pocketplan.io/ffs2020
Pocket Plan is a social connection software that makes your financial plan in minutes. Build professional financial reports like a Net Worth, Cash Flow, Retirement and Investment statement in minutes. Simply connect your financial accounts to view your reports and build a scenario. You can share this data with a financial advisor, attorney, accountant, insurance professional and more. Enjoy a private wealth experience with hand picked advisors. Use Pocket Plan on either desktop or mobile. Desktop version available now. IOS & Android mobile apps available in July.
The event will be live streamed in Annapolis, MD, but the replay will be available for free through July 5th.