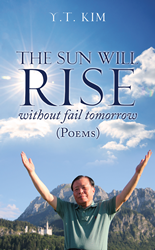 MAITLAND, Fla. (PRWEB) February 02, 2020
Y.T. Kim's three books, A Candle From Far East: Poems ($11.99, paperback, 9781545604991; $5.99, ebook, 9781545604984), The Sun Will Rise Without Fail Tomorrow: Poems ($14.99, paperback, 9781545652152), and Sharing Wisdom Together: Poems ($19.99, paperback, 9781545663561; $9.99, ebook, 9781545663578), are available for purchase.
A Candle From Far East: Poems is a collection of poems written by a Korean poet. His feelings, experiences, thoughts, and suggestions on humanity, wellness and health, travel, and the world are stated in the poetry. He wants to share his insight and wisdom.
The Sun Will Rise Without Fail Tomorrow: Poems is grouped into four sectors: humanity (lyrics), vagabond (travel), wellbeing and health, and the world (global issues).
In Sharing Wisdom Together: Poems, the author has composed poems on humanity, travel, health, and global issues. Most of them are sonnets and invite readers to respond to the thought expressed. We are experiencing a tremendous change in the coming decades, where human beings must collaborate with machines, robots in particular. In this book, the author endeavors to find solutions to the issues.
Born in Tokyo, Japan, Y.T. Kim came back to Korea in 1944. After the commencement from Seoul National University, Y.T. taught English then worked at LG Group Companies for forty years. He established a joint venture (LG CNS) of ICT services with EDS of U.S.A. and LG Group of Korea in 1987 and served as Chairman, President, and JRD of the company by 1996. He also served as Chairman of Korea Software Association, Founding Chairman of Free-ceos.com, and Founding Chairman of Korea Software Globalization Research Agency (NGO/NPO). He lives with his wife in Seoul, Korea.
Mill City Press, a division of Salem Media Group, is a leader in the general market division of self-publishing. The United States of America: A Thinkable Alternative to Civil War II is available online through amazon.com and barnesandnoble.com