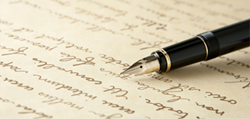 PROVIDENCE, R.I. (PRWEB) October 11, 2018
For almost 20 years, PoemsToGo has been leading the way with original poems, speeches and toasts for all kinds of occasions. And now, as the seasonal holidays get closer, PTG expects the usual groundswell of activity from customers – new ones and loyal repeaters alike -- around the globe.
"People are really going for our personal, customized poems," said Amy Miller, PTG's founder and president, citing precisely what makes PTG unique: "All of our poems, speeches and toasts are written directly from information that the customer provides. That's a world of difference from those generic greeting cards. In essence, every poem or speech we write is one in a million, an absolute original created specifically for each customer."
PoemsToGo creates surprisingly affordable (visit http://www.poemstogo.tv for pricing) poems and speeches for all occasions – for any occasion. Traditional "best-sellers" include 50th anniversary poems, 90th birthday poems, bar mitzvah poems and speeches, wedding/bridesmaid poems and even sympathy and bereavement poems and speeches.
"We'll write poems, speeches and toasts that are funny, poignant and utterly personal," said Miller. "Take our bar mitzvah candle lighting poems. They include 1 -2 stanzas for each person or group of people who are lighting a candle." "The point is this: We give our customers precisely what they want, incorporating facts, details and stories that they want to include." Best of all, PTG's proprietary questionnaire makes it quick and easy for customers to provide all the input they want for their order.
While PTG remains busy all year long (birthdays, anniversaries, weddings and bar mitzvahs happen all the time), the big holidays –Thanksgiving, Christmas, Hanukkah and New Year's --always see a ramp up in orders worldwide. Miller explained it this way: "Our original poems and New Years' letters are perfect holiday keepsakes. Because they're personal (original), people cherish them forever."
For full information on all of PoemsToGo's offerings – for the holidays or any days – Miller invites everyone to visit the site for details, real life samples of actual PTG poems, speeches and toasts and a quick and easy way to order.
Contact: Amy Miller, PTG president and founder, at poemstogo@gmail.com or by telephone at (508-330-0028).