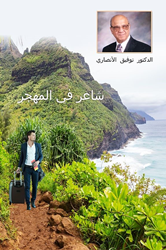 "This stunning book of poetry delves into the culture of Iran as only a native can see it. The author's emotional attachment to his homeland is evident in every word." - Robert Fletcher, CEO of Strategic Book Publishing and Rights Agency
DURHAM, N.C. (PRWEB) November 11, 2019
Iraqi physician, poet, and American immigrant Tawfiq Ansari wrote his latest collection of poetry An Immigrant Iraqi Poet because, "Poverty and lack of security in my beloved country make me so sad that I have tried to help Iraq in every way, including writing this poetry book."
Dr. Ansari left Iraq in October 1994, when he found himself unable to continue working as a physician after the first Gulf war known as Desert Storm.
"No medicine and no medical equipment were left in the country, and patients could not find medicines. If they found them, they were too expensive to buy. Most patients were unable to do lab work, X-rays, or any procedures because of very high prices.
"I was a director of a big hospital in Baghdad. Saddam Husain visited this hospital on the first day of Desert Storm. He did not like my management of war casualties. For this reason, I asked for retirement, and fearing for my life, I traveled to America with the help of my son who was working there.
"I have not been happy in America because of the different culture and because of the sad news coming from Iraq that makes me feel guilty for leaving it. After the second Gulf war, the Americans brought in very corrupt people to govern Iraq, and because of their bad management and the spread of killing, destruction, and deterioration of everything including education, I became full of pain and misery."
This book represents the period he stayed in America escaping from the Saddam Husain dictatorship in Iraq.
About the Author: Tawfiq Ansari was brought up in Najaf, an Iraqi city known for its poetry. His father and three of his brothers are poets. This is his fourth book. His other books represent different periods of his life, including medical school, working in underprivileged areas in Iraq, and time spent on his higher education in England. Now retired, he lives in Durham, North Carolina.
"This stunning book of poetry delves into the culture of Iran as only a native can see it. The author's emotional attachment to his homeland is evident in every word. We are proud to be the publisher," said Robert Fletcher, CEO of Strategic Book Publishing and Rights Agency.
AN IMMIGRANT IRAQI POET (ISBN: 978-1-950015-60-3) is now available for $21.95 and can be ordered through the publisher's website:
http://www.sbprabooks.com/TawfiqAnsari or at your favorite book seller.
WHOLESALERS: This book is distributed by Ingram Books and other wholesale distributors. Contact your representative with the ISBN for purchase. Wholesale purchase for retailers, universities, libraries, and other organizations is also available through the publisher; please email bookorder@sbpra.net.