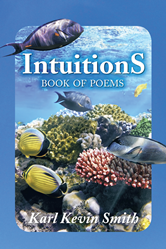 "Whenever you are going through trying times, try writing about it—stretching that creativity can help us heal."
ST. LOUIS (PRWEB) October 07, 2019
Author Karl Kevin Smith highlights the intricacies of reality and emotions we experience as humans in "Intuitions: Book of Poems", Smith's sophomore collection of poems featuring his finer works—poetry born out of his deep thoughts and open heart.
In "Intuitions", Smith draws inspiration from his observations of reality, society and the world around him to offer his creatively written point of view on life.
Readers gain a look into his viewpoint on a myriad of topics: poems such as "Lover's Addict" and "Why?" depict the joy and frustrations of romance and love; Smith explores the complexities of grief, pain and loss in "25th and 29th", "9mm" and "Waterfalls"; readers can reflect on social issues and the changing landscape of today's world in "Ice Trayed" and "When a King Dreams." Other themes include gratitude, friendship, mental illness and healing.
After his mother passed away, Smith learned to use poetry as an outlet for his emotions. "When I'm going through pain or something difficult, that seems to be when writing comes most naturally to me," he said. "Whenever you are going through trying times, try writing about it—exercising that creativity can help us heal."
Smith attributes his love of writing to the brilliant English teachers who helped him throughout his education at Lansdowne Junior High School, Clark Junior High School and East St. Louis Senior High School. "I was incredibly blessed to learn from some of the most brilliant teachers in my schooling years—for me, teachers like Ms. Hunt, Ms. Dillard, Ms. Adams and Mr. Logan come to mind. I can't ever thank them enough for helping me discover my love of writing!"
Smith hopes readers of all ages, genders and creeds will identify with the emotions and experiences depicted in his relatable and resonant poems of "Intuitions."
"Intuitions: Book of Poems"
By Karl Kevin Smith
ISBN: 9781496958518 (softcover); 9781496958525 (hardcover); 9781496958501 (electronic)
Available at AuthorHouse, Amazon and Barnes & Noble
About the author
Karl Kevin Smith was born and raised in East St. Louis, Illinois. He graduated from East St. Louis Senior High School in 1978 and enjoyed a long, rewarding career with the United States Postal Service, retiring in 2018. He believes creativity is born out of pain and encourages readers and writers to use their emotions to fuel their creative process. To learn more about Smith's other works, visit his website here.
Contact:
LAVIDGE – Phoenix
Kalin Thomas
480-648-7540
kthomas(at)lavidge(dot)com
###