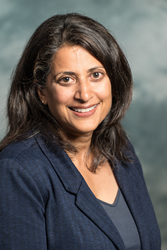 HOLLYWOOD, Fla. (PRWEB) April 13, 2020
Today, Point-of-Care Partners announced that Pooja Babbrah, MBA, PBM Practice Lead, has been elected to the NCPDP 2020-2021 Board of Trustees. Pooja will assume her new role at the NCPDP Board of Trustees meeting on Wednesday, May 6, 2020.
"Pooja brings a unique blend of broad health IT expertise to the NCPDP Board. Her efforts were instrumental in NCPDP's formation of its Specialty Pharmacy Work Group, where she has served as co-chair since 2018. Under her co-leadership, this workgroup has achieved milestones in Specialty ePrescribing that took decades to achieve for ePrescribing of non-Specialty medications," said Tony Schueth, CEO and Managing Partner of Point-of-Care Partners. "Point-of-Care Partners has a long history of supporting NCPDP through leadership roles that have contributed to widespread industry adoption of ePrescribing and electronic prior authorization. I'm excited we can continue to support healthcare's transformation through Pooja's participation as a board member and as a company continue to help pioneer NCPDP's growing role in advancing standards to support healthcare interoperability and value-based care."
Pooja currently serves as Point-of-Care Partners' Practice Lead for PBM Services. She has worked with all ePrescribing stakeholders including PBMs, health plans, patients, physicians, ePrescribing and EMR vendors and hospitals/health systems. Her efforts have been instrumental in bringing more relevant and critical information into the ePrescribing workflow encompassing prior authorization, real-time benefit check, clinical messaging and eEnrollment forms including specialty pharmacy, patient assistance program enrollment, and other types of forms related to prescribing that are currently being handled manually. Her recent efforts to advance industry adoption of real-time benefit check included the March 2019 Senate testimony where she answered how the real-time pharmacy benefit check transaction can contribute to drug price transparency. In addition, she has contributed to efforts to advance industry adoption of consumer-facing real-time benefit as an industry spokesperson for the CARIN Alliance.
"I'm honored to serve on the NCPDP Board of Trustees, working with industry leaders to advance NCPDP's new, Three-Year Strategic Plan. I've seen the positive impact that standards organizations, and particularly NCPDP has had over the past two decades in the healthcare technology space. Our industry continues to change and grow, and I'm excited to be part of the NCPDP story and to help the organization as we navigate this new, constantly changing landscape."
About Point-of-Care Partners
Point-of-Care Partners is a leading health IT management consulting firm with in-depth expertise in ePrescribing, eMedication management, health information exchange, population health management and multi-stakeholder initiatives. To learn more about how Point-of-Care Partners can help your company understand the changing health care landscape and implement effective strategies, contact info@pocp.com.
Related Links:
NCPDP Reports Election Results for Its Board of Trustees
Pooja Babbrah Testimony: Senate Special Committee Hearings, March 7, 2019, The Complex Web of Prescription Drug Prices: Untangling the Web and Paths Forward