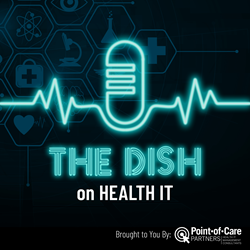 The Dish on Health IT is focused on helping healthcare leaders in provider, payer and vendor organizations stay ahead of heath IT opportunities and policies that are changing the face of healthcare
HOLLYWOOD, Fla. (PRWEB) April 16, 2020
Today, Point-of-Care Partners announced the launch of "The Dish on Health IT, a podcast focused on the latest health IT innovations, policies and industry shifts impacting U.S. healthcare delivery. During each podcast, a rotating panel of charismatic senior health IT experts will discuss game-changing health IT topics and trends to help subscribers stay ahead of new and emerging opportunities that lie within health IT.
Curated for and by health IT and business leaders and sponsored by Point-of-Care Partners, the Dish on Health IT is available now on Apple Podcasts and Google Podcasts and other podcast listening apps. New episodes will be added every two weeks.
The first podcast, Health IT in a COVID-19 World, is available now. During the 37-minute podcast, the expert panel discussed the role of health IT in addressing the perplexing issues surrounding the pandemic and how health IT is rapidly evolving to support positive change.
"The Dish on Health IT is focused on helping healthcare leaders in provider, payer and vendor organizations stay ahead of heath IT opportunities and policies that are changing the face of healthcare and do it in an entertaining format," says Tony Schueth, CEO and Managing Partners of Point-of-Care Partners. "We will look at a given topic or issue through a multi-stakeholder lens to give listeners a holistic view of the health IT ecosystem and gain actionable insights for their organizations."
Health IT leaders and the health IT curious may subscribe, view published podcasts and request topics for future podcasts on pocp.com.
About Point-of-Care Partners
Point-of-Care Partners is a health IT management consulting firm with in-depth expertise in ePrescribing, eMedication management, health information exchange, population health management and multi-stakeholder initiatives. To learn more about how Point-of-Care Partners can help your company understand the changing health care landscape and implement effective strategies, contact info@pocp.com.
Related Links
The Dish on Health IT Podcast Channel
Apple Podcasts subscription
Google Podcasts subscription
Contacts
Point-of-Care Partners
Jeanette Nelson, 877-312-7627, ext. 4