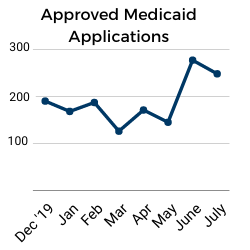 More covered visits results in more revenue at a lower cost than manual screening methods- Everett Lebherz, CEO of PointCare
WALNUT CREEK, Calif. (PRWEB) October 13, 2020
PointCare announced today the launch of its new Qualify API. This software allows hospitals, Revenue Cycle Management (RCM) companies, and other healthcare organizations to screen uninsured or self-pay patients in 90 seconds for all reimbursable and retroactive healthcare insurance and benefit options nationwide. This includes programs that address COVID-19 and social determinants of health. PointCare is for use with patients without healthcare coverage.
Once the screening is complete, patients can receive results in their preferred language via email, text, or print, leading to better patient engagement and satisfaction. Instant in-app reporting helps to ensure all patients are being screened and compares qualification rates across locations. PointCare looks to RCM partners to complete fulfillment of program enrollment.
Traditionally, uninsured or self-pay patients who visit healthcare facilities for emergency, inpatient, or outpatient care are screened manually, if at all. This raises challenges, as eligibility rules for benefits programs and the associated signup processes are constantly shifting. In fact, PointCare tracked 2,551 changes to programs in Q3 of 2020 alone.
In addition to program changes, the current healthcare landscape has been greatly impacted by COVID-19. Qualify API comes at a time of increased financial pressures for providers and patients alike. Unprecedented unemployment rates have led to the loss of healthcare coverage for millions of Americans. Healthcare organizations are also affected, as they lose revenue from high production departments and must find financial resources to support critically ill, uninsured patients. Screening patients quickly, accurately, and remotely is key to finding coverage and converting self-pay patients to covered visits, saving time and money while improving financial outcomes.
PointCare has measured the COVID-19 affect on healthcare within its own customer base. One customer has seen approved Medicaid applications spike by 45.8% when compared to pre-COVID volume.
"Instead of writing off costs associated with self-pay patients, our software lets healthcare organizations identify all possible insurance options and provides the information needed to apply. More covered visits results in more revenue at a lower cost than manual screening methods." Everett Lebherz, CEO of PointCare.
PointCare Qualify API is HIPAA compliant and has complete API documentation, making implementation fast and easy. Revenue Cycle Management companies and health organizations interested in Qualify API and its features can learn more at http://www.pointcare.com.
About PointCare
PointCare, founded in 2012, serves Federally Qualified Health Centers (FQHCs), hospitals, and Revenue Cycle Managers (RCMs) by building technology to help better manage uninsured populations. PointCare's software and centralized eligibility database help hundreds of thousands of Medicaid and self-pay patients and their providers identify eligible programs for new enrollments and ensure ongoing maintenance of current coverage.