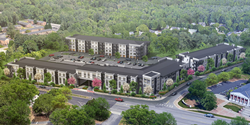 We have an excellent site in one of the fastest-growing markets in metro Atlanta and a developer-partner with a long established and consistent track record.
ATLANTA (PRWEB) March 10, 2021
PointOne Holdings and The Residential Group will jointly develop SODO (District at Duluth Phase II), a Class-A multifamily community in Duluth, a high-growth metro Atlanta suburb.
A large clubhouse with community space, including a co-working center and cybercafé, will anchor the 256-unit, garden-style luxury residential community. The property will also feature a resort-style pool with a fire pit and grilling areas, a fully-equipped fitness center and a dog park and pet spa. High-end finishes such as stone countertops, designer cabinetry, stainless steel appliances and hardwood-style flooring will compliment the spacious units.
"We look forward to beginning another successful project in the strongest submarket in Atlanta and are honored to work with a group the caliber of PointOne Holdings," said Kurt Alexander, Principal at The Residential Group.
"We are proud to joint venture with The Residential Group to develop a project in this exceptional location," said Leo Peicher, PointOne Holdings Managing Partner. "We have an excellent site in one of the fastest-growing markets in metro Atlanta and a developer-partner with a long established and consistent track record."
Conveniently located adjacent to the heart of downtown Duluth, the development is within a short distance to more than 250,000 jobs and about 30 minutes from downtown Atlanta, one of the country's fastest-growing cities.
The historic downtown has several restaurants, coffee shops and parks, all within walking distance. Duluth is a high-growth suburb of metro Atlanta's Gwinnett County, the second-largest county in the state.
"This project is exceptional due to its walkable access to downtown Duluth which we consider to be the best possible amenity to a multifamily property in a suburban market," said Ben Colonomos, PointOne Holdings Managing Partner. "We're excited to add this project to our portfolio of multifamily developments, bringing PointOne Holdings to 2,684 units under construction across nine properties."
The joint venture recently closed the site acquisition and financing for the project. Construction will soon be underway, with first units delivering in the Summer of 2022.
About PointOne Holdings:
PointOne Holdings is a real estate investment firm headquartered in South Florida and Atlanta with properties located throughout the Southeastern United States and Texas. The firm owns and manages a diversified portfolio of residential and commercial assets valued in excess of $934 million. PointOne Holdings' core principles are founded on precise investment selection, thorough due diligence, creative deal structuring, strong financial management and proactive and responsive communication. PointOne Holdings' principals are seasoned professionals with over 40 years of combined experience who have collectively conducted over $2.8 billion in real estate transactions. For more information visit http://www.pointoneholdings.com.
About The Residential Group:
The Residential Group focuses on multifamily investment, development, construction and management. The firm's primary goal is to create vibrant sustainable communities that are both stimulating home environments for residents, and quality long term endeavors for investors and owners. The Residential Group brings together entities and individuals responsible for the acquisition, development, construction, and management of over 30,000 apartments. Combining over 60 years of collective apartment experience, The Residential Group's team is qualified and capable of handling all facets of multifamily activity from design to construction, and from vision to reality. Learn more by visiting http://www.trg-atl.com.