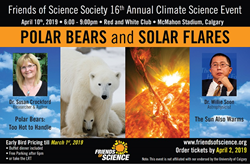 Polar Bears and Solar Flares - featuring Dr. Susan Crockford, researcher and author on polar bears, and Dr. Willie Soon, astrophysicist, explaining how the sun drives climate change
CALGARY, Alberta (PRWEB) February 28, 2019
"Polar Bears and Solar Flares" is the theme of the Friends of Science Society's 16th Annual Climate Change event in Calgary, Alberta, and will feature polar bear researcher and author, Dr. Susan Crockford and Dr. Willie Soon, astrophysicist to discuss how the sun drives climate. The event will take place at the Red and White Club, McMahon Stadium in Calgary, Alberta at 6pm and features a buffet dinner along with the two speaker presentations. Tickets are available now on Eventbrite.
Polar Bears: Researcher and Author – Dr. Susan Crockford: "Polar Bears: Too Hot to Handle" will be speaking about how a thriving species like the polar bear came to be classified as 'threatened' with extinction based on untested computer models. This is the story of what happened when Dr. Crockford challenged that determination and showed that the models had failed: sea ice declined abruptly but polar bear numbers did not. A few biologists and some proponents of catastrophic man-made global warming made unseemly attacks on Dr. Crockford but could not stop the erosion of public support regarding their messages of doom.
Dr. Crockford's brand new book "The Polar Bear Catastrophe that Never Happened" will be available for purchase at the event as well as her novel (EATEN) and polar bear science book for kids (Polar Bear Facts & Myths).
Solar Flares: Astrophysicist - Dr. Willie Soon: "The Sun Also Warms"
As a northern country with vast agricultural lands, solar activity cycles have long been suspected to have direct effects on Canada's climate. In this talk, Dr. Soon will probe the long history in the quest to understand Sun-climate connections. Specifically he will present the rather surprising new evidence on how the Sun effects climate in Canada. Solar impacts are many and can cause significant changes in climate.
These presentations are designed for the general public. No special economics or climate science knowledge required.
The Global Warming Policy Foundation has just released Dr. Crockford's "State of the Polar Bear Report 2018."
About
Friends of Science Society is an independent group of earth, atmospheric and solar scientists, engineers, and citizens who are celebrating its 16th year of offering climate science insights. After a thorough review of a broad spectrum of literature on climate change, Friends of Science Society has concluded that the sun is the main driver of climate change, not carbon dioxide (CO2).
Friends of Science Society
P.O. Box 23167, Mission P.O.
Calgary, Alberta
Canada T2S 3B1
Toll-free Telephone: 1-888-789-9597
Web: friendsofscience.org
E-mail: contact(at)friendsofscience(dot)org
Web: climatechange101.ca