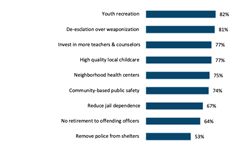 Nationwide, there is widespread support for diverting police funding to community services that people believe contribute equally, if not more, to the public's safety
NEW YORK (PRWEB) May 05, 2021
Americans overwhelmingly believe a portion of police budgets should be reallocated toward other public safety measures, with the majority prioritizing investments in youth recreational activities and training in conflict de-escalation – a public health issue illuminated in the wake of Dereck Chauvin's guilty conviction in the murder of George Floyd. Additionally, it shows that people recognize that high-quality schools, good jobs, affordable housing and childcare are all as important to public safety as local police presence, but communities are far more likely to have police than any of those other resources.
Under Half Lack Access To Important Public Safety Elements, Aside from Police
The new nationwide survey by Benenson Strategy Group (BSG) of 1,400 Americans found a unified view on the factors that contribute to public safety, but a substantial divide on access across the country. While 76% say they have a local police presence where they live, fewer than half of adults have access to the other elements they deem to be critical to public safety, such as quality public schools, jobs with livable wages or affordable after-school activities – access that is usually divided on income-lines.
A strong majority of those in high-income households (earning over $100,000 a year) living in the suburbs, however, report having access to most of these public safety measures, and 93% say their neighborhood is safe, compared to just 65% of households with sub-$30,000 incomes.
Broad Support for Reallocating Police Funding to Community
Nationwide, there is widespread support for diverting police funding to community services that people believe contribute equally, if not more, to the public's safety. Eighty-two percent would direct a portion of the funds to youth recreation, 81% to conflict de-escalation, 77% to more teachers and counselors, 77% to local childcare, 75% to neighborhood health centers and 74% to community-related public safety.
There's also strong backing for proposals that reduce the size and scope of policing. Sixty-seven percent say they would reduce jail dependence, nearly two-thirds (64%) would forego paying retirement to officers found guilty of excessive force and 53% would remove police from homeless shelters.
Majority Favor Police Filming and Accountability
Conflict de-escalation training and the use of body cameras – seen as key to police accountability – are considered important by approximately nine of 10 Americans. They rank higher in importance than the police being armed or well-funded (85%).
There is some discrepancy, however, between Black and white adults when it comes to using video to hold police accountable for their conduct. Twice as many (60%) Black adults think it's very important that police are filmed by bystanders, compared to just 30% of their white counterparts.
When it comes to keeping police well-funded, the numbers shift, with the majority (62%) of white adults saying it's very important, compared to less than half (47%) of Black adults. Sixteen percent more of white respondents also believe it's very important for police to be armed.
BSG's full study report is now available for free download at http://www.bsgco.com/public-safety-poll
Methodology
BSG conducted interviews with 1,400 adults nationally from Feb. 11-23, 2021. All interviews were conducted by online panel. Surveys with an online component do not have a margin of error, but based on the n-size, margin of sampling error is ± 1.6% for 1,400, ± 4.9% for 400, and ±5.2% for 350.
About Benenson Strategy Group
Benenson Strategy Group (BSG) is a strategic research consultancy that marries language expertise with innovative research to frame choices that help clients win in the most challenging competitive situations. Advising global corporations, political leaders and institutions in dynamic, competitive scenarios, Benenson Strategy Group has earned a reputation for expertise in the rhythm and nuances of language and words, and the underlying dynamics of consumer and political choices. Founded in 2000, BSG's headquarters are in New York. The firm also has offices in Washington, D.C., Los Angeles and Denver. For more information, please visit http://www.bsgco.com