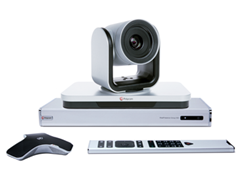 Milwaukee, WI (PRWEB) April 29, 2014
IP Phone Warehouse (http://www.ipphone-warehouse.com) is thrilled to introduce the new Polycom EagleEye IV camera, compatible with the Polycom Group 500 video conferencing system. Matched together, this video conference camera and system provides unparalleled performance and scalability. Experience the best of standards-based collaboration and communications with the Polycom Group 500 video conferencing bundles available at IP Phone Warehouse.
The Polycom Group 500 video conferencing system is a popular choice because of its simplified operation. An extremely intuitive interface lets users of all levels conference, schedule meetings and more; also features interoperability with video standards like SIP, H.323 and H.264.
Breakthrough technology within the Polycom Group 500 includes:

Dual monitor support and content sharing
Microsoft Lync 2010 and 2013 interoperability
Conversational stereo through Constant Clarity technology
SmartPairing technology to use your tablet as a remote
License the Group 500 for Multipoint support, enabling your system to host up to four high-definition endpoints or six standard-definition endpoints.
Ready your business for the next generation of high-definition video conferencing with the Polycom EagleEye IV camera. The camera is built with a 4K image sensor, yielding amazing picture clarity for remote conference participants. Future software upgrades for the Group 500 series may include 4K display support, allowing you to take full advantage of the camera's 4K image sensor.
Stay ahead of the 4K revolution with the EagleEye IV camera, including:
Pan, tilt and zoom, with auto focus
Either 4x or 12x zoom
A 65˚ field of view, upgradable to 85˚
The Polycom Group 500 system and EagleEye IV camera deliver future-proof video conferencing with standards-based operation. Set up this system as a permanent room-based solution or as a mobile solution, built with a smaller form factor for video conferencing carts.
Check out the entire selection of Polycom Group video conferencing solutions at IP Phone Warehouse. Contact us to learn more about integrating the Group 500 with your business' current collaboration and communication strategy. Call IP Phone Warehouse at (888) 201-9056 or email at service(at)ipphone-warehouse(dot)com.
About IP Phone Warehouse
IP Phone Warehouse is the leading specialty reseller of VoIP phones, video conferencing equipment and network devices. We're stocked with everything that small and medium-sized businesses need to deploy reliable VoIP and video solutions. A dedicated customer service team and wide range of available online resource support every product at IP Phone Warehouse.