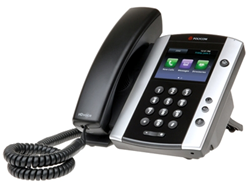 Milwaukee, WI (PRWEB) April 23, 2014
IP Phone Warehouse (http://www.ipphone-warehouse.com) is excited to introduce the new Polycom VVX 500 and VVX 400 phones. Polycom VVX phones are built for busy professionals that demand high performance from their VoIP solutions. For work environments ranging from offices and call centers, to common areas or warehouses. Each of these attractive phones are designed on the inside and out with an intuitive set of productivity features. The entire VVX series is available at IP Phone Warehouse.
The Polycom VVX 500 phone and Polycom VVX 400 phone are both compatible with SIP and other standard protocols. The phones support a wide range of audio codecs and HD voice. Quickly connect these phones to your existing IP PBX, including Microsoft Lync.
Polycom VVX 500

Touchscreen interface
Two-port gigabit Ethernet switch and USB ports
H.323 video interoperability
Polycom VVX 400
3.5" color display with context-sensitive keys
Compatible with third-party apps
Plug the available Polycom VVX camera into the VVX 500 phone and enable personal video conferencing from your own desktop.
The expansion camera supports features like:
H.264 and H.263 video encoding
Resolution of up to HD 720p, at 30fps
Side-by-side and picture-in-picture
This camera is also compatible with the Polycom VVX 600 phone.
Two expansion modules are available and compatible with all of the Polycom VVX phones, one with a backlit LCD display and the other with a traditional paper insert. The Polycom VVX expansion module with an LCD display is more dynamic, including these features:
4.3" LCD display
28 programmable lines
3 page view soft keys
Busy lamp fields
Speed dialing
Contact or visit IP Phone Warehouse today to learn how these phones will improve your business' bottom line. Call at (888) 201-9056 or email at service(at)ipphone-warehouse(dot)com.
About IP Phone Warehouse
IP Phone Warehouse is the leading specialty reseller of VoIP phones, video conferencing equipment and network devices. We're stocked with everything that small and medium-sized businesses need to deploy reliable VoIP and video solutions. A dedicated customer service team and wide range of available online resource support every product at IP Phone Warehouse.