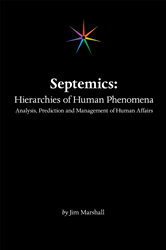 ARIZONA CITY, Ariz. (PRWEB) November 01, 2021
After decades of researching and collecting data on human phenomena, Jim Marshall releases his groundbreaking findings in his seminal text, "Septemics: Hierarchies of Human Phenomena: Analysis, Prediction and Management of Human Affairs." Septemics is an entirely new discipline of social science and psychological philosophy which offers a powerful and transformative way of viewing human activity.
In the course of his work as a human development engineer, Marshall discovered that individuals and groups behave in predictable patterns, and advance or decline in specific ways. He developed these patterns of growth and behavior into 35 scales, each with seven levels. Applied to the different axes of human activity, such as basic purpose, motivation, spiritual identity and equanimity, these scales offer readers an indispensable set of tools for understanding how human beings and activities develop over time, determining opportunities for improvement, and enhancing one's personality, relationships, interpersonal communication, work and so forth.
"Septemics: Hierarchies of Human Phenomena" has something for every reader and can be used by individuals pursuing self-betterment; couples looking to improve their relationships; parents wanting to raise highly skilled children; counselors, educators and spiritual leaders helping those in their care to improve their lives; and employers seeking to strengthen their leadership skills. Marshall hopes that in studying Septemics, readers will achieve their goals faster and easier and ultimately, master the game of life.
"Septemics is a road map to enable you to find out precisely where you are in life, where you are going and how to get there," said Marshall. "Think of it as 'a conceptual cookbook.' You have the recipes, so go cook up a better life for yourself, your loved ones and your neighbors."
Psychotherapist Louis Adams, M.A., LISAC, wrote in his review: "After reading a copy of 'Septemics: Hierarchies of Human Phenomena' by Jim Marshall, I concluded simply that the book was quite worthy of praise . . . The writer has much to offer and the offerings could be useful to clinicians and those who are desirous of making their lives better."
Shabaz Ahmed wrote in Vents Magazine: "In essence, Septemics is best described as a revolution. A change in the way of understanding, thinking, describing, and evaluating human behavior. Science and philosophy merge in this insightful statement on how humans work. Marshall invites readers to gain access to valuable tools of insight that will help engage in food for thought about the potential of themselves, others, and the potential of humanity itself."
"Septemics: Hierarchies of Human Phenomena: Analysis, Prediction and Management of Human Affairs"
By Jim Marshall
ISBN: 9781665512442 (softcover); 9781665512459 (hardcover); 9781665512435 (electronic)
Available from Amazon, Barnes & Noble and AuthorHouse
About the author
Jim Marshall, B.S., is a polymathic intellectual whose areas of expertise include psychology, philosophy, theology, parapsychology, science, engineering, mathematics, law, literature, history, metaphysics, military science, political science, physical culture and music. To learn more, please visit septemics.com.
Review Copies & Interview Requests:
LAVIDGE – Phoenix
480-998-2600 x 586
lstandridge(at)lavidge(dot)com