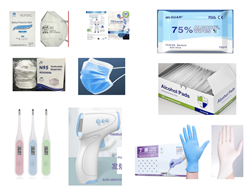 "Many our customers worldwide are in smart city, industrial IoT, health care IoT, senior care IoT." said Alex Wu, President of Polysense. "Most are government agencies, health organizations, essential service providers; they are now also asking us to provide PPE supplies to fight the pandemic."
SANTA CLARA, Calif. (PRWEB) April 14, 2020
Polysense Technologies Inc., (Polysense) an innovation leader in IoT solutions for wireless sensing, today announced , it will provide PPE supplies to customers worldwide.
"Many our customers worldwide are in smart city, industrial IoT, health care IoT, senior care IoT." said Alex Wu, President of Polysense. "Most are government agencies, health organizations, essential service providers; they are now also asking us to provide PPE supplies to fight the pandemic."
Polysense has partnered with major PPE manufacturers, ensuring quality, inventory and delivery schedule. As of this press release, the followings are available for ordering:
1) Certified face masks - medical, surgical, FDA, CE, KN95, N95, NIOSH
2) Wet disinfectant wipes
3) Disinfectant spray
4) Hand Sanitizers
5) Disposable Protective gowns
6) Face shield/eye mask/goggle
7) Thermometer
8) Forehead Thermometer
9) Medical cap with eye protection
10) Nitrile gloves
Essential service workers in the front lines such as health care, senior care, utility, law enforcement, government agencies, delivery and logistics, and groceries, must be protected with proper PPE supplies. Our ways of lives may be forever changed - businesses will provide necessary PPE (such as face masks, disinfectants, gloves) to employees to conduct daily work functions. Many businesses will screen employee temperature daily or multiple times daily to minimize any community infectious risk by monitoring body temperature when reporting to work or entering designated work spaces. Polysense strives to help our customers for business safety and continuity.
https://www.bloomberg.com/press-releases/2020-04-07/semtech-s-lora-devices-integrated-into-polysense-s-infrared-temperature-sensor
https://www.prweb.com/releases/polysense_announces_smart_access_control_pad_with_infrared_thermal_temperature_screening_wxs_x810_irtmpad/prweb17000155.htm
MoQ (Minimal Order Quantity) may apply. Shipment schedule can vary based on destination. Inventory availability is subject to orders received. Additional supplies also available, please send your inquiry.
Availability
All PPE supplies are available immediately for ordering and delivery. For pricing or further information, Please contact: Anti-COVID19@Polysense.net
About Polysense
Located in Santa Clara, California, with offices in Beijing, Luo Yang and Shanghai, China, Polysense develops IoT products and solutions for smart enterprise, city and home, including distributed fiber sensing, LPWAN LoRa, NB-IoT/LTE CAT M and Wi-Fi/BLE based wireless IoT sensors and cloud based data management and analytics cloud platform iView, edge computing platform iEdge, smartphone App iPalm
Polysense Press Contact: Grace Wu
Email: gwu@polysense.net
Phone: (408) 800 7728
Web: http://www.polysense.net