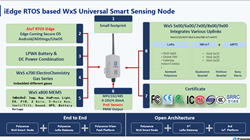 Many customers ask for a near turnkey platform as baseline and a service to manufacture, we are providing just that.
SANTA CLARA, Calif. (PRWEB) February 16, 2021
Polysense Technologies Ltd., (Polysense) an innovation leader in IoT solutions for wireless sensing, today announced that it will offer flexible licensing tiers of its field proven hardware/software solution to vendors, entrepreneurs and the likes; further, it will start to offer a full design, testing, manufacturing services by leveraging its rich IoT production center resources.
"The real world IoT use cases are so numerous and the sensors and features are equally as many, to the thousands," said Alex Wu, President of Polysense. "In particular, in many scenarios, use cases need sensors or feature customization. Even with over 100 types of sensors available from Polysense, we are often asked about legacy sensors, customized sensors and features, for various industries, often with less than 10,000 unit expected. Many customers ask for a near turnkey platform as baseline and a service to manufacture, we are providing just that."
The licensing offerings include
(1)Device tier: US$50K
4 IoT sensor devices/nodes with hardware design (source and Gerber file) and edge software OS (ARM MCU)

LoRaWAN, WiFi, NB-IOT uplink support
FCC, IC, CE certification
IP65/66/67 enclosure design optional
Up to 9 on-board sensors to choose from
Up to 12 gas sensors to choose from
RS232/digital/analog interfaces
Mature interoperability with MachineQ, Multitech, Senet, Actility, Alibaba, ZTE
Mature interoperability with Singapore Telecom, China Telecom, China Mobile, China Unicom
(2)Development Tier: US$95K
Device tier PLUS Polysense Network Server that uses Semtech LoRaWAN;
(3)Professional tier: US$150K
Development tier PLUS cloud dashboard platform with full management functions/maps/alerts/charting.
Polysense invested multi-year engineering effort to complete a mature IoT end-end hardware/software package. This package has been installed worldwide with over 100 use cases and customers, collecting hundreds of various sensing parameters. With a low cost licensing and mature baseline, a sensor device or cloud feature customization can be design and bring to readiness in as little as a few weeks or a few months, not years and not millions of dollars spent. You will never need to pay any per connected point fee.
The Service offerings include

IoT sensor device design services (hardware, software, enclosure)
Cloud dashboard development for industry verticals based on Polysense generic platform (thus reducing cost and time)
Testing services (Polysense IoT center is equipped with various gas test environment, temperature ovens, various sensor testing/calibration stations, analyzers, RF, rework stations and experienced engineers)
Pilot manufacturing service (we offer a turnkey service if you need to have a pilot production under 1,000 units - simply provide your Gerber)
Availability
Available immediately;
For further pricing or information, Please contact: rli@polysense.net or awu@polysense.net
About Polysense
Located in Santa Clara, California, with offices in Beijing, Luo Yang and Shanghai, China, Polysense develops IoT products and solutions for smart enterprise, city and home, including distributed fiber sensing, LPWAN LoRa, NB-IoT/LTE CAT M and Wi-Fi/BLE based wireless IoT sensors and cloud based data management and analytics cloud platform iView, edge computing platform iEdge, smartphone App iPalm
Polysense Press Contact: Lavinia Chen
Email: lchen@polysense.net
Phone: (408) 800 7728
Web: http://www.polysense.net