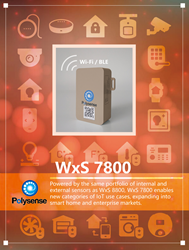 With the combo support of Wi-Fi b/g/n and simultaneous dual-mode BLE & classic Bluetooth, WxS 7800 allows plug and play addition of IoT sensing capability into existing networks at many enterprises and homes without the hassle and cost of installing new network infrastructure
SANTA CLARA, Calif. (PRWEB) November 09, 2018
Polysense Technologies Inc., (Polysense) an innovation leader in LPWAN IoT solutions for wireless and fiber sensing, today announced the commercial availability of WxS 7800.
With the combo support of Wi-Fi b/g/n and simultaneous dual-mode BLE & classic Bluetooth, WxS 7800 allows plug and play addition of IoT sensing capability into existing networks at many enterprises and homes without the hassle and cost of installing new network infrastructure.
To further facilitate the smooth deployment, WxS 7800 supports identical sensor portfolio as WxS 8800, over 60 types of sensing parameters, as companion and complementary to LoRa based WxS 8800
https://www.prweb.com/releases/polysene/lora/prweb14420035.htm
"Following the successful launch and subsequent deployment of WxS 8800, many of our customers are thrilled with the sensor portfolio, and requested a solution that can allow them plug and play connectivity into their existing Wi-Fi home or enterprise networks." said Alex Wu, President of Polysense. "We agreed and WxS 7800 is now released to meet their needs."
Wireless Features

Wi-Fi 802.11 b/g/n and dual-mode Bluetooth Classic and Bluetooth Low Energy (BLE4.2)
Full regulatory certifications (FCC, RED, IC, JRF, and BQB Bluetooth) for faster time to market
Industrial-grade Built to stay connected in harsh environments and extreme temperatures
Best-in-class low power when not transmitting in sleep and stand-by modes
Internal sensors

Nine internally integrated sensors, including 3 axis accelerometer, high precision vibration/tilt, passive infra-red (PIR) motion , temperature, humidity, light, atmospheric pressure, acoustic and GPS/GLONASS/Galileo/Beidou GNSS location sensors
Patented tilt detection algorithm, enabling precise detection of the tilt-vector of the object in geodetic coordinate system in real-time
High-sensitivity motion detection capability, offering the best solution for valuable asset protection
Ultra-low power always on acoustic/noise sensor for both perimeter security and smart city applications
IP67 rated enclosure with dual high capacity air flow protective vents, allowing for fast response of temperature, humidity and pressure sensing
Flexible battery power or DC power, meeting different need of application requirements and deployment scenarios. Intelligent power monitor and management to maximize the battery life, allowing 5 to 10 years of battery operations with either 1 or 2 'AA' Li-SOCl2 batteries
Flexible internal or external antenna options, meeting different need of application requirements and deployment scenarios
Powered by Polysense iEdge™ platform, offering powerful edge computing capabilities with user programmable data sampling/report schemas, local data analytic and custom algorithms
Temperature compensation algorithms for displacement and vibration sensing across C and I temperature ranges
Interfaces and External sensors

Dual Multi-Purpose Interfaces (MPI), enabling connectivity to external analog and digital sensors, providing either direct powering or parasite powering options to external sensors – thus eliminating the need of separate powering need for the external sensors:
o Analog voltage
o Analog current with 4-20mA input
o IRQ
o PWM based actuator control output with up to 16 signal levels
o DS18B20 digital interface

RS232/RS485
Support over 30 external sensors
"Polysense's technology fills a gap in the current IoT ecosystem, offering a feature rich and ready-to-use multipurpose sensing solution," said Andrew Suttle, VP of Global Distribution for OEM Solutions at Sierra Wireless. "We are excited to work with Polysense to add the Wi-Fi/BLE connectivity to its wide sensor portfolio, expanding the solutions to smart enterprises and homes."
Now with WxS 7800, Polysense is able to offer its customers both high speed/short range and low speed/long range wireless IoT sensing solutions, enabling applications where real time video/images or high frequency vibration sensing are needed.
Availability
WxS 7800 is immediately available for trial and ordering. Contact Polysense for further information: kyang@polysense.net
About Polysense
Located in Santa Clara, California, with offices in Beijing, Luo Yang and Shanghai, China, Polysense develops IoT products and solutions for smart enterprise, city and home, including distributed fiber sensing, LPWAN LoRa, NB-IoT/LTE CAT M and Wi-Fi/BLE based wireless IoT sensors and cloud based data management and analytics cloud platform iView, edge computing platform iEdge, smartphone App iPalm
WxS 8800 and WxS 8700, WxS 7800 are FCC/IC certified
Polysense Press Contact: Katherine Yang
Email: kyang@polysense.net
Phone: (408) 800 7728
Web: http://www.polysense.net/en/index.php
About Sierra Wireless
Sierra Wireless is an IoT pioneer, empowering businesses and industries to transform and thrive in the connected economy. Customers Start with Sierra because we offer a device to cloud solution, comprised of embedded and networking solutions seamlessly integrated with our secure cloud and connectivity services. OEMs and enterprises worldwide rely on our expertise in delivering fully integrated solutions to reduce complexity, turn data into intelligence and get their connected products and services to market faster. Sierra Wireless has more than 1,300 employees globally and operates R&D centers in North America, Europe and Asia. For more information, visit http://www.sierrawireless.com.