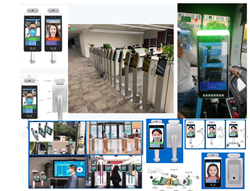 "With the growing spread of a public health pandemic, many facilities with known population, such as an office building, hospital, school or factory want to have restricted access control via body temperature or identity. The goal is to keep the facility with a stable and unaffected population"
SANTA CLARA, Calif. (PRWEB) March 24, 2020
Polysense Technologies Inc., (Polysense) an innovation leader in IoT solutions for wireless sensing, today announced , a smart pad scanner for conditional access control to facilities such office buildings, schools, hospitals, factories, train, subway, ship, or taxi.
"With the growing spread of a public health pandemic, many facilities with known population, such as an office building, hospital, school or factory want to have restricted access control." said Alex Wu, President of Polysense. "If an individual is detected with abnormal temperature or not found to belong the facility via face recognition, the access is automatically denied. The goal is to keep the facility with a stable and unaffected population."
Some common use cases of the scanner pay include, but not limited, to the followings:
(1) An office building with 200 employees can one or multiple install scanner pads at all entrances. When an individual is entering the building, infrared sensor on the scanner will detect the body temperature - if the reading is normal, access is allowed; if abnormal, access is denied. The scanner pad output can be directly fed to existing building access control system.
(2) A hospital, or a school, or a factory, can also install scanner pads at all entrances to monitor the body temperature of all individuals. This will ensure such facilities to have an unaffected population, effectively preventing spread of any public health pandemic.
(3) Optionally, the facial images of the known population of the facility can also be pre-loaded on the scanner pad (up to 30,000 facial images). Offline face recognition, when enabled, can then be performed as a standalone device.
https://www.prweb.com/releases/polysense_announces_infrared_thermal_temperature_screening_wxs_x810_irtm_enabling_fast_temperature_monitoring_of_both_mobile_population_and_fixed_locations/prweb16973779.htm
Advanced Features
Thermal infrared
Built in high-precision thermal infrared module, temperature detection range - 10 ℃ ~ 150 ℃, accuracy ± 0.3 ℃
Support OSD real-time display and superposition of human body temperature
Support configurable temperature threshold level crossing alarm via sound/beep, with adjustable regional temperature difference alarm and other alarm modes
Rich Pad Features
Optional offline face recognition, supporting infrared live detection
Up to 65,000 facial images can be stored locally
Super fast recognition speed, complete recognition within 150 milliseconds
8.5-inch ultra high definition display screen
Good environmental adaptability, adapt to low light and strong backlight, and support automatic face exposure
Wiegand protocol, allowing direct access control, such as control various gates, door opening
Wi-Fi, Bluetooth wireless interfaces
Rich interfaces, integrated 100M Ethernet interface, audio interface, Wiegand interface, relay interface TTL/USB/RS232, tfcard, USB
1 / 2.8 "2 million pixel progressive scanning image sensor, excellent low illumination
The maximum output resolution is 1920 × 1080 @ 30fps, and the image quality is clear and smooth
Support 2D and 3D digital noise reduction function, clean picture and low noise
Support h.265 + / h.265 / H.264 / MJPEG video compression algorithm, support multi-level video quality configuration and coding complexity setting
5 watts ultra low power consumption
Availability
WxS x800-IRTMPad, standalone, wi-Fi or Ethernet, is available immediately for ordering and delivery. For pricing or further information, Please contact : info@polysense.net
About Polysense
Located in Santa Clara, California, with offices in Beijing, Luo Yang and Shanghai, China, Polysense develops IoT products and solutions for smart enterprise, city and home, including distributed fiber sensing, LPWAN LoRa, NB-IoT/LTE CAT M and Wi-Fi/BLE based wireless IoT sensors and cloud based data management and analytics cloud platform iView, edge computing platform iEdge, smartphone App iPalm
Polysense Press Contact: Lavinia Chen
Email: lchen@polysense.net
Phone: (408) 800 7728
Web: http://www.polysense.net