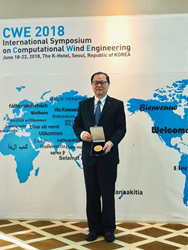 (PRWEB) July 28, 2018
Professor You-Lin Xu, Dean of Faculty of Construction and Environment at The Hong Kong Polytechnic University (PolyU), has been honoured with the International Association for Wind Engineering (IAWE) Senior Award (Davenport Medal) for his distinguished contributions to the field of wind engineering and bridge engineering in research, education, and application. Professor Xu is the first scholar in Hong Kong, and the second in greater China, receiving this award.
Professor Xu, who is also Chair Professor of Structural Engineering, received the award and medal in person from Professor Ahsan Kareem, the President of IAWE, and Professor Yukio Tamura, the Immediate Past President of IAWE in Seoul, Korea, earlier in June this year.
IAWE, formally established in 1975, is one of the most active and influential global engineering professional bodies, with more than 20 organization members worldwide and individual members from about 100 nations/regions. It set up the Senior Award since 2007 to recognize distinguished members who have long-term outstanding achievement or contribution in research, applications, education or international community in the field of wind engineering.
Professor Xu feels deeply honoured to receive the award. He said, "Professor Alan G. Davenport is a true giant in the field of wind engineering. It is particularly meaningful for me to receive an award in the name of a great person I admire. My sincere gratitude also goes to PolyU and my faculty members, who have been offering me with their untiring support. With a shared aspiration, my faculty colleagues and I will continue our efforts in enhancing the quality of our education for the young generations, while pushing for excellence in our research so as to bring positive impacts to society and mankind."
With over 30 years of experience in research and consultancy work in structural engineering, Professor Xu is internationally renowned for his contributions in wind engineering, structural health monitoring, structural vibration control and smart structures. Over the years, he has participated in over 80 national and international research projects, including providing consultation on wind and structural health monitoring of the Tsing Ma Bridge and Stonecutters Bridge in Hong Kong, as well as the Shanghai Tower in the Chinese mainland — the second tallest building in the world.
Professor Xu joined PolyU in 1995 as Assistant Professor, and is presently the Dean of Faculty of Construction and Environment. He has obtained two patents on his inventions and has published more than 280 international journal papers. He has garnered many prestigious awards in his career, including the Croucher Senior Research Fellowship in 2006, the Qian Ling Xi Computational Mechanics Award from the Chinese Association of Computational Mechanics in 2010, the Robert H. Scanlan Medal from American Society of Civil Engineering in 2012, and the Guanghua Engineering Science and Technology Prize from the Chinese Academy of Engineering in 2018.
(End)
*****************
Press Contact : Ms Denise Wong
Communications and Public Affairs Office, PolyU
Telephone : (852) 3400-2131
Email : denise.wf.wong@polyu.edu.hk