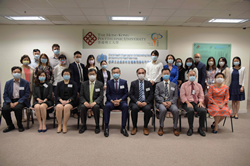 The Centre has always been very active in promoting various healthy ageing related issues in the region. It also serves as a common ground to draw upon the readily available expertise and collaborative opportunities within the University to help carry out the mission of the Centre.
HONG KONG (PRWEB) November 24, 2020
A re-designation ceremony was held on 20 November, officiated by Prof. Sophia Chan, JP, Secretary for Food and Health, HKSAR Government; and Dr Hiromasa Okayasu, Coordinator, Healthy Ageing Data, Strategy and Innovation (DSI), WHO Regional Office for the Western Pacific. The ceremony also had representatives from PolyU, including Prof. David Shum, Yeung Tsang Wing Yee and Tsang Wing Hing Professor in Neuropsychology, Chair Professor of Neuropsychology and Dean of the Faculty of Health and Social Sciences; and Prof. Alex Molasiotis, Angel S.P. Chan Lau Professor in Health and Longevity, Chair Professor of Nursing, Head of the School of Nursing and Director of the WHO CC for Community Health Services.
During the 4-year designation period, the Centre will work towards the goals of identifying key indicators of ageing and health in the region, actively promoting and implementing the WHO Guidelines on Integrated Care for Older People (ICOPE), and providing a platform for inter-disciplinary collaborations among health care professionals and academia for initiating projects on healthy ageing.
Prof David Shum said, "The Centre has always been very active in promoting various healthy ageing related issues in the region. It also serves as a common ground to draw upon the readily available expertise and collaborative opportunities within the University to help carry out the mission of the Centre. I am confident that members of the Centre will continue to work closely with the WHO to make a positive difference to the health services in our community."
Prof. Alex Molasiotis is pleased that the Centre received re-designation from the WHO, stating, "Since established, the Centre has been actively involved in various community health initiatives. Going forward, the Centre will step up its efforts in developing a series of work plans, including collaborative research projects, roundtable sessions and training workshops on healthy ageing, in response to the WHO's Decade of Healthy Ageing. Furthermore, we will continue our role in assisting the WHO's Western Pacific Regional Office to roll out its strategic initiatives on ageing for the region, in the hope of improving the health and wellbeing of older people and their families."
For more details about the WHO Collaborating Centre for Community Health Services, please visit: https://sn.polyu.edu.hk/whocc/en/index.html