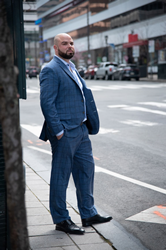 "I'm proud to be CEO of this firm," Lehocky shared. "It's one thing to have a passion about what you're doing, and I feel lucky to have a place where I can put my passion to work in an industry that needs change."
PHILADELPHIA (PRWEB) April 01, 2021
Pond Lehocky Giordano, LLP has named Shawn Lehocky as the Chief Executive Officer for the firm effective March 30, 2021. Lehocky who previously served as Chief Strategy Officer, has been with the firm since 2010.
"It is with great pride and excitement to announce Shawn as the CEO of Pond Lehocky Giordano. This ensures our future with continuing cutting-edge service, representation to our clients and allows us to continue to grow," Managing Partner Samuel H. Pond shared. "Shawn is a leader, a visionary, and a strategist. His objectivity and sense of fairness are the foundations of his character."
Lehocky and the firm's executive team have focused on strategizing to find new opportunities for the firm, scaling the business, enhancing the company culture, embracing technology to work more efficiently, and growing the brand with innovative and impactful marketing campaigns.
"I'm proud to be CEO of this firm," Lehocky shared. "It's one thing to have a passion about what you're doing, and I feel lucky to have a place where I can put my passion to work in an industry that needs change."
Lehocky has constantly said that the firm's ultimate goal is to be a premier brand in all legal verticals, both domestically and internationally. That is a bold objective, but Lehocky believes data and technology provide a path under his leadership.
A primary focus for Lehocky has been expanding the law firm into practice areas that complement its primary concentration areas of workers' compensation and Social Security disability as well as offer clients holistic legal service. Thus, the firm has added short- and long-term disability insurance departments, while developing a nationwide referral network to help meet all clients' needs, anytime and anyplace.
"To help be a catalyst and a part of this team that's going to bring that innovation forward and help more people, I feel like the luckiest person alive," Lehocky said. "There's a lot of people that have passions and hobbies and everything, but when you can truly do what you love in a place that encourages it, to be able to help hundreds of thousands of people on a yearly basis, I mean, that's a self-fulfilling prophecy in itself."