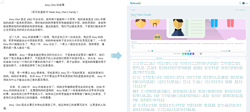 Ponddy Reader frees both teachers and students from the static nature of traditional paper textbooks and materials, and genuinely facilitates the development of reading materials tailored to the needs and proficiency levels of each individual student.
SAN JOSE, Calif. (PRWEB) November 05, 2018
Ponddy Education Inc., an industry leader in personalized language learning, today announced the release of Ponddy Reader, a web-based application using artificial intelligence to personalize language-learning content for students while saving precious time and resources for teachers and their schools. Ponddy Reader provides AI-based embedded learning tools which level and enrich Chinese content to optimize language acquisition and retention.
One of the most significant advances of Ponddy Reader lies in its automated leveling capabilities. Teachers submit Chinese text to the platform and Ponddy AI transforms it into lesson-ready content within seconds, with leveled vocabulary that aligns to various world standards for Chinese language assessments, such as ACTFL, HSK or TOCFL.
Powered by the Affinity Knowledge Learning System (AKLS), Ponddy Reader connects language-learning content to a network of 1 billion characters and a large array of embedded language scaffolding tools. AKLS uses Natural Language Processing and Machine Learning to identify language patterns and automatically groups similar elements for faster learning and better retention. Ponddy Reader dynamically adds an online dictionary and sample sentences to give students quick access to co-locations of words, characters and radicals. Teachers can also share vocabulary and grammar lists with their students who can then use the provided guidelines to read on their own.
Because there are no defined reading levels or widely adopted assessments for Chinese language programs, teachers struggle with finding reading materials for their students. Yet, providing students with content that is in line with their comprehension level is crucial to improving literacy and ensuring successful long-term learning. According to research, when students cannot understand just 1% of the characters in a text, their comprehension goes down to 88%. Comprehension then decreases by 2-4% for every 1% of increase in unfamiliar content, with comprehension at 58% when just 10% of the characters are unfamiliar.
"The process of levelling and personalizing content is crucial to the success of language learning programs, yet it is currently very labor-intensive and complex," says Franz Chen, Founder & CEO of Ponddy Education. "Ponddy Reader is the first technology that really addresses this pain point in a way that is cost-efficient. Now anyone can produce classroom-ready content that is fun and makes learning more effective. Our goal is to significantly increase students' success rates with content adapted to their needs, and with tools to fine-tune their comprehension, all through the power of artificial intelligence."
This announcement follows a successful Series A funding round of $6 million for Ponddy Education Inc., as well as an approval from the College Board for the company to provide online Advanced Placement (AP®) Chinese language and culture courses.
"Ponddy Reader is a powerful Chinese language pedagogical tool for both teachers and students," says Dr. Scott McGinnis, Academic Advisor & Professor at the Defense Language Institute in Washington (DLIFLC)." It frees both from the static nature of traditional paper textbooks and materials, and genuinely facilitates the development of reading materials tailored to the needs and proficiency levels of each individual student."
Stephen L Tschudi, Specialist in Technology for Foreign Language Education at the Center for Language and Technology, University of Hawaii, is also impressed with Ponddy Reader's personalization tools. "For students reaching towards independence in reading authentic materials, Ponddy Reader provides just the right amount of support. In addition, vocabulary belonging to different levels can be filtered for display, helping the learner maintain a sense of control and mastery. From the teacher's perspective, Ponddy Reader offers the chance to truly individualize instruction by allowing individuals or groups of learners to read what they most want and need to read."
"Ponddy Reader is one of the most exciting AI assisted language learning devices out there," adds Frederik H. Green, PhD, Associate Professor of Chinese at the San Francisco State University. "It's phenomenally sophisticated, amazingly user-friendly, and above all, incredibly fun to use!"
About Ponddy Education, Inc.
Ponddy Education, Inc. uses AI-based technology such as machine learning (ML) and natural language processing (NLP) to create language-learning products and services that improve student's success while removing unnecessary costs and pain points for teachers and their schools. Our mission is to give anyone, anywhere, the opportunity to learn or teach a new language with ease using the power of artificial intelligence. We envision a world where language learning is not seen as a barrier to overcome, but as an instrument that unlocks potential and connections for all. To learn more about Ponddy Education, visit http://ponddy.ai.