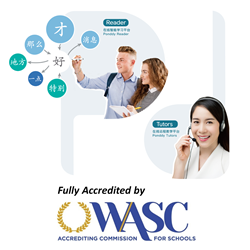 SAN JOSE, Calif. (PRWEB) August 03, 2020
Ponddy Education Inc., an industry leader in personalized language learning, announced today that it received its full accreditation from the Accrediting Commission for Schools, Western Association of Schools and Colleges (ACS WASC). The accreditation makes Ponddy one of very few online Chinese language programs in the US that have achieved this status and marks a significant step in Ponddy's role as the leading enabler of Chinese online education worldwide.
"We are thrilled about receiving full accreditation through ACS WASC. It validates the integrity of the Ponddy program and enables individuals who want to learn Chinese online to earn a transferable credit," said Ponddy's CEO, Franz Chen.
Ponddy's accreditation furthermore empowers schools and organizations that may want to but are unable to offer Chinese language courses to offer such courses through partnering with Ponddy. Through such partnerships, schools that don't have enough students, teachers or technical resources to offer a Chinese language course can immediately allow their students to take online classes with Ponddy and receive valuable high school transfer credits.
Ponddy has been serving students of all ages for four years. The company is continually upgrading its online programs by designing smarter courses, improving instruction methodology, hiring the best teachers and following corporate governance. From its inception, the platform has been designed for efficient online learning via the internet, which makes it a viable learning channel during the pandemic for individuals, schools as well as corporations.
To optimize teaching and make it more personalized, Ponddy has adopted AI-assisted technology that creates adaptive curricula and highly customized learning plans for each student. This technology has been shown to accelerate language training and make it easier and more engaging for students to learn.
"The Ponddy online program had characteristics of language immersion and a friendly user interface which makes learning Chinese for a beginner level student very easy," said Dustin, 19, a student from Rochester, NY. "There's nothing repetitive about Ponddy's curriculum. I am always learning new things," added Holden, 17, from Norwalk, CT.
Each of Ponddy's online courses follows a specific pathway that leads the student up a gradual ladder of progress. To optimize learning, Ponddy teaches its students about the Chinese culture and covers current topics. "I think my favorite thing is that a lot of the content covered in class was based on very relevant topics of the current world," said Kylie, 17, a student from Rocklin CA.
The tutors Ponddy employs have been meticulously trained to specialize in online Chinese instruction. Over the years, they have developed courses that match the accepted standards of the US curriculum set by the American Council on the Teaching of Foreign Languages (ACTFL). Ponddy has also been approved by the College Board to offer an online AP® Chinese Language and Culture course*, which makes the students who complete the course eligible for transferable high school credits.
As a purveyor of global language education, Ponddy aims to enable schools all over the world to easily expand their curricula by offering their students Chinese programs through a partnership. In this sense, the accreditation Ponddy received marks such a significant step in the company's growth and the realization of its mission.
*AP® and Advanced Placement® are registered trademarks of the College Board. Used with permission.
Contact info:
Silicon Valley Headquarters: 1550 The Alameda, Suite 310, San Jose, CA 95126
https://ponddy.ai
https://twitter.com/PonddyEducation
https://www.linkedin.com/company/ponddy
https://www.instagram.com/ponddyeducationinc/