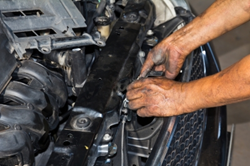 There are now 4-cylinder and V6 sized Pontiac motors that can be purchased or evaluated when accessing our updated inventory online
Birmingham, AL (PRWEB) August 29, 2015
The discontinuance of the Grand Prix vehicle brand at the General Motors company in the year 2008 has complicated the research process for some consumers to find motor blocks. The Preowned Engines company is now a resource that the public can use to find Pontiac Grand Prix engines in used condition. The company buying team is making these units available at http://preownedengines.com/pontiac-grand-prix-engine.
GM produced a maximum of 10 different motor blocks utilized in the Grand Prix vehicle brand between 1962 and the mid-2000s. Consumers using the POE website will be able to explore prices and in stock information for 2.3, 3.1, 4.3 and 4.9 displacement versions. This motor range is believed to be the most popular as requested by used vehicle owners.
"There are now 4-cylinder and V6 sized Pontiac motors that can be purchased or evaluated when accessing our updated inventory online," a seller at the PreownedEngines.com company said.
The support for older and newer Grand Prix vehicles is part of a company expansion that will carry forward into the year 2016. Because some older parts can be susceptible to a varying degree of deterioration, a warranty policy for all units sold this year is being offered at the POE company for no additional cost.
"All prices that are acquired through our website already include the cost of the warranty policies that we are able to provide to the public at the time of order completion," the seller added.
The Preowned Engines company will add additional General Motors inventory when acquired through its salvage and junk yard providers later this year. An announcement will be posted on the company homepage when this process is completed.
About PreownedEngines.com
The PreownedEngines.com company supplies the American public with options for purchasing used condition engines from Ford, Chevrolet, Dodge and other top automobile manufacturers. The PreownedEngines.com company website has been changed to include a faster method of reviewing price quotations through its digital portal this year to help the public.