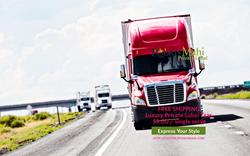 Customers from the East Coast that travelled to Hawaii are shocked when they pay up to $35.00 to ship Hawaiian products. For example it'll cost the customer about 4x more ($26.50) to ship a single box of tea from Hawaii to New York.
San Francisco, CA (PRWEB) September 11, 2013
Pooki's Mahi announced today it included zero shipping costs to celebrate being one of two-dozen innovative companies selected whose products will be featured in Celebrity SWAG Bags for the 65th Emmy Awards.
The product team at Pooki's Mahi work tirelessly to source hard to find, highly valued products and bring them to market at reasonable prices. Customers in the Lower 48 States can now enjoy Royal Kona's 100% Kona or LION's international blend of coffees, as well as Pooki's Mahi own line of award-winning teas, without paying for ground shipping or high rates for expedited shipping. Pooki's Mahi included shipping as part of the product costs. This program has been tested in several marketplaces for several months.
"Customers who are from the East Coast and have travelled to Hawaii are shocked when they pay up to $35.00 to ship Hawaiian products. For example it'll cost the customer about $5.99 for tropical teas and $26.50 to ship from Hawaii to New York. The shipping costs are about 4x more than the product."
--Les M., Founder/CEO – Pooki's Mahi
Pooki's Mahi negotiated affordable weight based shipping rates with its new fulfillment partner. The average shipping cost for Pooki's Mahi top 5 cities within the top four sites is $11.00; rather than pass the shipping charges on to the customer up to $7.50 of the shipping costs (for ground) to the continental U.S.A., Lower 48 states, was absorbed. Pooki's Mahi will monitor the sales from Alaska, Hawaii and Puerto Rico to determine if including the shipping cost as part of the products for these customers is a viable option.
Free shipping for Pooki's Mahi products is available only on PookisMahi.com, Pooki's Mahi Facebook Store, Google Shopping and Amazon.com. This benefit is not available in other marketplaces we serve, such as Rakuten, etc. Orders will be fulfilled within two business days. Customers in the West Coast will receive their shipment within three business days. Customers in the East Coast will receive Pooki's Mahi products within five business days. Customers with Amazon Prime can purchase these delicious products on Pooki's Mahi's Amazon store. Products will be delivered within two business days.
Having shipping included in the product cost does not apply to orders shipping to Hawaii, Alaska, Puerto Rico or international destinations. Customers from these locations will have to pay extra to receive Pooki's Mahi delectable products. Pooki's Mahi provides shipping rates based on weight and by ranges.
FREE Shipping applies to Standard/Ground shipping method. Pooki's Mahi new Fulfillment Partner delivers shipments within 4-5 days. Pooki's Mahi is planning to provide two-day delivery in the future and will roll out a pilot program to test it out within its customer base.
About Pooki's Mahi:
Pooki's Mahi is an ecommerce store bringing exotic Hawaiian coffees, award-winning teas, gourmet salts and sugars to you at reasonable prices. Pooki's Mahi started with exotic coffees rated 95+ by Coffee Review from the world's champion roasters and baristas and teas rated 90+ points by World Tea Ratings from the world's champion brew masters. Today, that includes an assortment of macadamia nut products, drink sweeteners like brown rock sugar, and various gourmet salts. We hop that you take the opportunity to sample more of our products at PookisMahi.com and enjoy the results of our experiences. Our products are produced by the finest world champion roasters, baristas and brew masters, noted by Coffee Review and World Tea Ratings. Follow our expanding offerings in macadamias, drink sweeteners and foods on PookisMahi.com, special offer updates on Twitter @pookismahi and on Facebook Like us.
###